Innovative Hydrogen-Based Fuel Supplier Ecombustible Energy LLC to Merge With Benessere Capital Acquisition Corp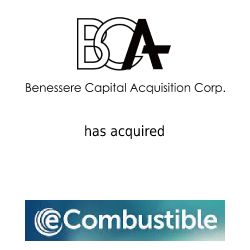 Benessere Capital Acquisition Corp. (Nasdaq:BENE), a special purpose acquisition company ("Benessere"), and eCombustible Energy LLC, a leading innovator and provider of customizable hydrogen-based fuel for thermal industrial applications ("eCombustible Energy"), announced that the companies have entered into a definitive business combination agreement, providing for a business combination that will result in eCombustible Energy becoming a public listed company, subject to regulatory and stockholder approval and other customary closing conditions. Upon completion of the proposed transaction, the combined company is expected to operate under the name eCombustible Energy Corp. and list on Nasdaq Capital Market under the ticker symbol "ECEC".
ARC Group acted as the exclusive adviser to Benessere.
Founded in 2010 by Miami-based entrepreneur and investor Jorge Arevalo, eCombustible Energy offers a long-term fuel supply solution that is designed to provide the world's most fossil fuel-dependent industries with a fuel that is carbon-free, cost-competitive, and requires little to no modification to existing customer equipment. The efficacy of its hydrogen-based fuel, eCombustible, has been validated through testing and independent assessments by third-party engineering firms and experts.
"We believe a carbon-free future will best be achieved on a win-win basis, with fossil fuel-reliant industries being empowered to transition to clean and renewable energy solutions without crippling investments," said eCombustible Energy CEO, Jorge Arevalo. "This business combination is intended to fuel the acceleration and adoption of eCombustible, and we are confident that we can help many of the world's largest industrial companies' transition to our carbon-free fuel and advance ESG objectives in a seamless, viable, and impactful way."
Benessere is a blank check company formed for the purpose of effecting a merger, capital stock exchange, asset acquisition, stock purchase, reorganization or similar business combination with technology-focused, middle-market and emerging-growth companies in North, Central and South America. Led by CEO Patrick Orlando, Benessere was drawn to eCombustible Energy given the immense need for and potential of decarbonizing industries.
"The transition away from carbon containing fuel towards hydrogen and other clean fuel technologies has been underway for several years; however, the applicability of hydrogen as an alternative is nascent. eCombustible has not only focused on producing hydrogen efficiently but also making hydrogen a true solution for applications including fixed thermal applications. Thermal energy is foundational to a multitude of industrial applications and we believe eCombustible presents a unique solution with the potential to accelerate the transition to a lower carbon energy future," said Patrick Orlando, CEO of Benessere. "We are excited to work with the eCombustible Energy team in an attempt to enhance value across the company, industry, public shareholders and society."
Transaction Overview
Benessere raised $115 million in its initial public offering earlier this year, and approximately $116.5 million is now held in a trust account for the benefit of Bennessere's public stockholders. Under the terms of the proposed transaction announced today, a newly formed successor to Benessere will issue shares of its common stock with an aggregate value of $805 million, subject to adjustment, to current security holders of eCombustible Energy upon the closing of the proposed transaction. These eCombustible Energy security holders may also receive, subject to the terms of the business combination agreement, up to an additional 59 million shares of Benessere common stock based on the daily volume-weighted average share price of the combined company's common stock in any 20 trading days within a 30 trading day period beginning on the closing of the transaction and ending on the 30-month anniversary of the closing, as follows: 29.5 million shares if the share price exceeds $12.50 prior to such 30-month anniversary and an additional 29.5 million shares if the share price exceeds $15.00 prior to such 30-month anniversary.
The transaction is subject to approval by stakeholders of Benessere and eCombustible Energy and other customary closing conditions, including applicable regulatory approvals. Additional information about the transaction will be provided in a Current Report on Form 8-K to be filed with the Securities and Exchange Commission ("SEC") and available at www.sec.gov. The description of the business combination contained herein is only a summary and is qualified in its entirety by reference to the definitive business combination agreement. In addition, Benessere intends to file a registration statement on Form S-4 with the SEC (the "Registration Statement"), which will include a proxy statement/prospectus of Benessere, and will file other documents regarding the proposed business combination with the SEC.