The sale of the GAZ DE GIRONDE GROUP to ENGIE HOME SERVICES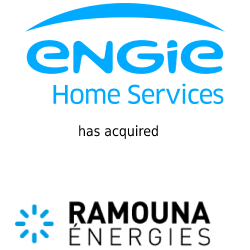 GROUPE GAZ DE GIRONDE becomes a subsidiary of ENGIE HOME SERVICES, which will support it in order to ensure its sustainability and development while retaining its brand, its DNA and its know-how.
GROUPE GAZ DE GIRONDE, employing around twenty people, offers a full range of installation, maintenance and repair services for gas-fired heating and hot water appliances, for individuals throughout the city. Bordeaux, and in particular in the hypercentre of Bordeaux. Taken over by Mr. Christophe Lataste in 2003, a local entrepreneur who notably bought and sold LOU GASCOUN, it was structured and diversified in the various fields of energy.
It is well known to Bordeaux residents through one of its brands, RAMOUNA ENERGIES.
This fine company was sold to ENGIE HOME SERVICES (turnover of €600m), leader in France in the maintenance and repair of heating systems for individuals, and a subsidiary of the ENGIE group. The ENGIE HOME SERVICES group is a key player in ENGIE's ambition by 2024 to become the benchmark energy company that helps its individual customers consume less and consume better.
MBA Capital, one of our Partners in France, was commissioned to set up a competitive transfer process with industrialists and individuals: making contact with targets, managing information through an electronic data room, negotiating offers and transfer conditions. MBA Capital's objective was to find a buyer likely to offer the best conditions required to ensure the sustainability and future development of the company, which was achieved on time and within the framework provided.