Vianet Group Buys Trade and Assets of Beverage Metrics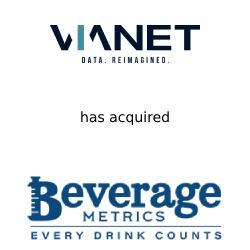 Vianet Group has bought the trade and assets of Beverage Metrics for 577,500 pounds ($718,872) which will be covered by issuing shares, with up to GBP4 million to be paid later depending on revenue performance.
The London-listed data provider will issue 700,000 shares at 82.5 pence each, which represents a 14.6% premium to Friday's closing price, to cover the initial consideration amount. The deferred consideration is 7% of subsidiary Vianet Americas's net revenue from April 1 2024 to Dec. 31 2028 which will be paid in cash and capped at GBP4 million.
Rickitt Mitchell, our partner in the United Kingdom, advised Vianet Group on this acquisition.
The group acquired customers, an operating platform, software IP, patents for barcode 3D scanning and advanced technology for point-of-sale data integration from the Denver-based group, a subsidiary of Identec Group And that provides inventory software solutions to the U.S. hospitality sector. Beverage Metric's five employees will be incorporated into Vianet Americas, it said.
"Vianet has had an encouraging start to fiscal 2024 and looks forward to the future with great confidence," Vianet Chairman James Dickson said, adding that the transaction will boost its presence in the U.S. market.