Rickitt Mitchell deliver landmark acquisition of Enterprise Blueprints by Bain & Company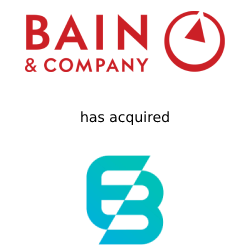 Rickitt Mitchell, our partner in the United Kingdom,  successfully led and delivered a 100% sale of Enterprise Blueprints ("EB") for Bain & Co shareholders. The deal represents another high-profile overseas transaction from Rickitt Mitchell with a US acquirer, underlying its ability to seamlessly access overseas markets for its UK M&A clients.
Following the completion of the deal with Bain, Enterprise Blueprints will continue to operate independently as a branded service line within Bain's Enterprise Technology ("ET") practice and will continue to provide services to its pre-existing clients across financial services and other private and public sectors.
Stephen Phillips, head of Bain's global ET practice said: "Enterprise Blueprints' deep expertise in architecture will add to Bain's end-to-end enterprise technology capabilities. Together, the firms combined expertise will support clients' technology transformations end-to-end, from strategy to the realities of scale delivery. The acquisition will work to strengthen Bain's pre-existing enterprise technology services with offerings that are especially important in leveraging technology to create competitive advantage."
"We are very excited to be joining forces with Bain to offer solutions that help companies achieve maximum results," said Neil Mulholland, CEO of Enterprise Blueprints. "This deal allows us to build on, as well as reinforce, what we've accomplished over the last fifteen years.  We look forward to future achievements with Bain; ones that will allow us and our clients to reach even greater heights."
EB is an award-winning specialist technology architecture consultancy.  Founded in 2007 by Prakash Sethuraman and David Taylor, the Company has grown rapidly in recent years and now boasts a headcount of over 50 highly skilled consultants, predominantly servicing the UK financial services industry.
EB provides an extensive suite of services spanning digital, IT, architecture capability, resilience, data, cloud, cyber and cost optimisation. The Company offers clients a range of service models to best meet their specific needs from tailored time and materials to true outcome-based Architecture-as-a-Service offerings. Many of its clients are in the financial services sector, ranging from fintech start-ups to FTSE 250, to global corporations.
David Taylor Founder & Shareholder said:"The Rickitt Mitchell team, led by Kaine, has been instrumental in helping us achieve our goal. Kaine provided considerate, expert guidance through the deal with its many twists and turns. In the difficult moments, Kaine's calm assurance was crucial in keeping the ship steady. The wider team at Rickitt Mitchell, which included Charlotte and Naomi, were also excellent. Another crucial dimension of engaging Rickitt Mitchell is their amazing network of specialists that were instrumental in getting our deal over the line. Overall, highly recommended".