MIH VVS & EL A/S & Bravida Denmark A/S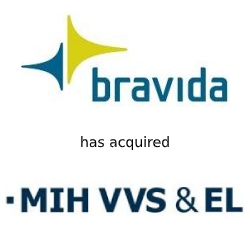 MIH is a plumbing company that services both private and commercial – and who also has special expertise and experience in setting up, installing, and servicing district heating systems for municipalities throughout Zealand.
Bravida Denmark A / S acquires the service and installation company MIH VVS ApS. MIH Plumbing is headquartered in Copenhagen and a local branch in Hellerup.
MIH Plumbing employs approx. 70 employees and in 2018 had a turnover of 72 MDKK. The company's employees are distributed to a larger plumbing department, which deals almost exclusively with service and smaller project tasks within housing associations, businesses, and district heating distribution companies. In addition to HVAC activities, MIH HVAC has also built an electrical department located at the same address.
Since MIH Plumbing was founded, service and framework agreements have been the primary part of MIH's customer base. Regional Director in Bravidas Region East, Carsten Bo Knudsen says about the acquisition of MIH Plumbing:
When we buy MIH plumbing we get a good foothold in central Copenhagen. It quickly became clear to us that MIH Plumbing has a good combination of solid service agreements, an attractive location, and competent employees, which means that we are getting closer to the Copenhagen customers and in addition strengthening Bravida's position in the service area.
Rasmus Bork-Nielsen, who is one of the two owners of MIH Plumbing, says:
We are constantly focused on thinking in new ways and improving our processes and working methods, both for the benefit of ourselves and our customers. I look forward to continuing this development and taking further steps with Bravida having the same focus. Becoming part of a larger group gives us and our customers many benefits.
Bravida Denmark has taken over MIH HVAC, all employees and the two owners Michael Ian Henriksen and Rasmus Bork-Nielsen continue in the company. The integration of the company in Bravida will take place later in 2019, which in practice means that the company continues on unchanged terms so far.
5 – 10m