M&A Worldwide
>
News
>
News
>
M&A Worldwide had a total deal value that showed a staggering increase of 194% in 2021
M&A Worldwide had a total deal value that showed a staggering increase of 194% in 2021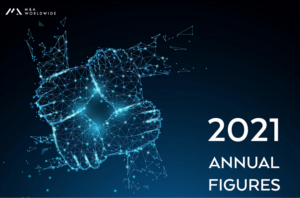 M&A Worldwide increased their number of deals in 2021 by 2.5% to 567 deals (+67% since 2017), with a remarkable deal value of 9,658 Billion Euros in 2021. In total, deal value showed a staggering increase of 194% in 2021.
It was remarkable that M&A Worldwide achieved their highest average deal value ever, € 16.87 million, which was an amazing growth (+183.53%), especially considering the challenges faced in 2021.
M&A Worldwide is also proud to announce that the total transaction amount increased by over 50% since 2017 to €9.568B.
M&A Worldwide, over the last 5 years has closed more than 2400 deals with €24.B in transaction value.
This performance places M&A Worldwide as one of the global best performing mid-market M&A advisory firms. Based on the latest estimates, the 2022 total deal amount and deal numbers are expected to be higher than in 2021.