Aeternus assists Van Den Broek on its sale to industry peer WILVO GROUP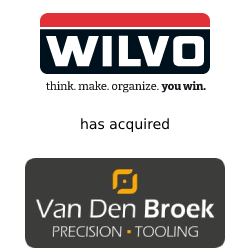 Our Partner in the Netherlands, Aeternus, assisted Van den Broek Precision & Tooling on its sale to Wilvo Group.
Wilvo Group takes over processor of precision mechanical parts, Van den Broek Precision & Tooling. With this, Wilvo continues to focus on extreme precision in the field of machining.
Wilvo and Van Den Broek have been working together for years and found each other in the characteristic 'Kempic company DNA' and healthy (growth) ambition. The acquisition will enable Van Den Broek to actually realize the desired and necessary growth 'under the Wilvo Group' flag. In addition, the continuity of the company is guaranteed. An absolute must for the current management, which consists of  Johan Van Den Broek  and  Mieke Van Vonderen – Van Den Broek .
Rob Lemmens , CEO of  Wilvo : " We have been a 'customer' of Van Den Broek for many years. They operate in a niche market and are really the top segment in it. In addition, Van Den Broek occupies a strong position in the medical technology market. The combination of all this is the primary reason for us to take over Van Den Broek. We are not only concerned with opportunities in the market, but also with the next level precision that we are now joining. †
Partly due to the arrival of investor  Borromin Capital, concrete steps are being taken in Wilvo's buy & build strategy. The takeover of Van den Broek is the third in a row. Previously, mechanical supplier  GFM , and  Iteq were acquired.
 Maurice Koopmans and Dex van Gils of Aeternus:  "We can look back on a very pleasant and constructive transfer process, in which all those involved have made every effort to make this great next step possible for the company and its employees."
The management of Van Den Broek was guided in this process by  Maurice Koopmans ,  Dex van Gils  and  Lieke Janssen  of Aeternus. We wish Van den Broek and Wilvo Group every success in further expanding this leading partnership.
About Van Den Broek Precision & Tooling
Van Den Broek has been a specialist in the metalworking since 1982. From precision mechanical parts (stamps, dies and special tooling) to parts made from exotic materials such as titanium, Inconel, Invar and Molybdenum and carbide and hardened materials (up to 70 Hrc).