M&A Worldwide
>
News
>
News
>
Food as a Defensive Sector is the latest Report from the AFB Industry Group
Food as a Defensive Sector is the latest Report from the AFB Industry Group
In current global inflation trends, the Food Industry has remained very attractive for PE investors related to:
–           Non-cyclic sector sustained by consumption
–           Premiumization of global brands to develop sales in value, despite volume stagnation
–           Raise local operators with Valued brands to balance price increases and lack of raw materials/ energy price increases
–           Innovation, driven by:
o          VEGAN consumers seeking meat alternatives and change in daily consumption habits
o          Industrial strategy to produce any products requested by a consumer segment,
i.e. a Chicken Nuggets producer has developed vegan nuggets with vegetable protein in Germany.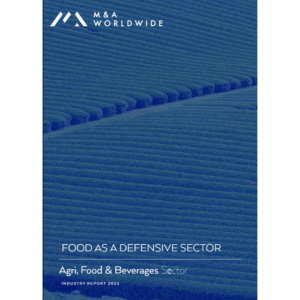 In this report, Food as a Defensive Sector, we have detailed some of these trends, so please share this report with your contacts, and we hope this report gives you some interesting insights into the world.
JAPAN (by Yuki Numano), GERMANY (by Dr Heinz Fischer), IRELAND (by Brian Barrett), the UK (by Neil Mitchell), GREECE (by Dimitris Skaleos), POLAND (by Piotr Dalak), Lithuania (by Kristupas Kukarskas) and FRANCE (by Nicolas Bonnel).