MBA Capital advised Brana on their acquisition by Enowe Investment Fund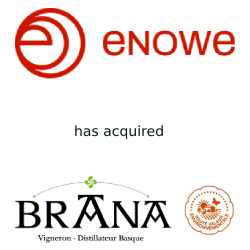 MBA CApital, one of the MAWW Partners in France, advised Brana on their acquisition by Enowe Investment Fund.
Having no buyer in the family, the Brana distillery was sold to the Parisian company Enowe after four generations within the same family. After four generations in the family fold, the Brana house changes hands. The distillery located in Saint-Jean-Pied-de-Port was sold to the Parisian investment and consulting company Enowe, which becomes the majority shareholder.
Launched in 1887 by the great-grandparents of the current owners, the Brana house specialized in the trade of wine and spirits, before the opening in 1974 of an artisanal distillery and a wine estate in AOP Irouléguy ten years later. The co-owner, Martine Brana, says that a few years before retirement, no buyer had been found in the family. "Our objective is not to "get rid" of the company but to perpetuate it by selling it to Mr. Hugues Souparis who shares the same values ​​as us. Just like us, he is very attached to the quality of the products. Respect for the environment, biodiversity, innovation and the excellence of our wines and spirits, which we have always been concerned about, is also hers," she explains. The Brana family still retains shares in the company as well as the vineyard.
The ambition of the new owner, originally from Lot, is to develop the company from a commercial point of view to make Brana known beyond the borders of the Basque Country, while keeping the fifteen employees who make up the company as the current team. "We are delighted with this partnership and are committed to consolidating the strengths of the house and, while respecting its fundamental values, providing it with the necessary resources in order to accelerate national and international development to carry the values ​​of the company high and far." Enowe company commented.
To ensure the sustainability of the Brana House while respecting the values ​​it has advocated since its origin, Brana turned to Hugues Souparis. Entrepreneur of Enowe, Hugues wishes to support French know-how of excellence. It is invested in the preservation of French heritage by offering development opportunities to historic French companies, while keeping their DNA and values ​​intact. With Brana, Enowe wishes to make the quality fruit brandies of this House known to as many people as possible and to perpetuate this Basque institution with exceptional human values.
Source: mediabask.eus