Custom software developer MyBit enters into strategic partnership with Vortex Capital Partners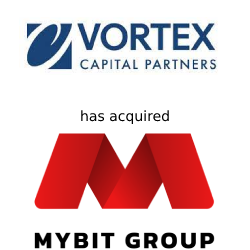 Custom software developer MyBit and investment company Vortex Capital Partners have entered into a partnership to combine the forces of various Dutch custom software companies under the name of MyBit Group. MyBit and Vortex want to build a strong group by means of a buy-and-build strategy and thereby strengthen the Dutch software development sector.
Marcel Flipse, CEO of MyBit Group " The software manufacturing industry market in the Netherlands is very fragmented. Small and some larger companies make the most technically ingenious applications, but in the business field, there is often a lot to gain. The combination establishes itself as a connector of various companies in the software manufacturing industry ".
With the recent affiliation of DSE Software, the group, with a turnover of approximately 10 million euros, is strengthening its position within the software manufacturing industry.
The owner of MyBit, Marcel Flipse, was guided in this process by Jacques Jetten, Bob van der Louw and Tom Moonen from Aeternus, our Partner in the Netherlands.
Managing partner of Aeternus, Jacques Jetten: "Marcel and I had known each other for several years after the sale of a SAAS company, of which he was the founder at the time. Very nice that we could now advise him again in the deal with Vortex. Marcel is a connector with a clear vision, who can now build further growth together with his team and Vortex."
We wish Mybit and Vortex Capital Partners every success in further expanding this leading partnership.
About Mybit:
MyBit, founded in 2007, is located at the media park in Hilversum and has 70 employees. With experienced development teams, MyBit creates custom software for its partners within various verticals such as healthcare, government, energy, education and retail. In addition, MyBit provides management services, DevOps services and hosting services. MyBit provides full-stack development critical business applications with specialist integrations and is a specialist in various php frameworks, Java and typescript frameworks (React, Angular, VueJs).
About Vortex:
Vortex is a specialist investor focused on software, internet and tech-driven companies. The investment fund focuses on small and medium-sized companies with high growth potential. The team combines broad entrepreneurial experience with deep technical expertise to support ambitious entrepreneurs and management teams as an active partner in realizing their growth ambitions. Over the past 10 years, Vortex has made 20 platform investments with this strategy with over 25 follow-on investments.
About DSE:
DSE Software, founded in 1988, is located in Beverwijk and employs 25 people. With its development teams, DSE makes custom software for complex and innovative business processes in, among others, the retail, food, legal and logistics verticals. In addition, DSE provides management services and hosting services. DSE Software provides full-stack development and is a specialist in Microsoft .NET technology and Microsoft Azure.