Aeternus assists recruitment and secondment agency Career Control with participation by Greenberg Capital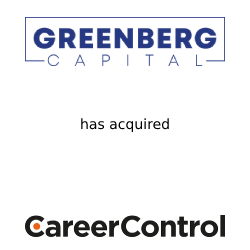 Greenberg Capital will take an interest in recruitment and secondment agency Career Control on 15 March. Career Control has thus entered a new phase in which further growth and further development are central. With Greenberg there was an immediate good feeling about the company culture, entrepreneurship, professionalism and job satisfaction.
Bouke van der Weide, Managing Partner of Greenberg Capital: "Career Control is a wonderful addition to our portfolio. In addition to Greenberg Nielsen, Greenberg Staffing, Sales11 and KOOT professionals, we can take a major step forward with our buy & build strategy with the arrival of Career Control. Career Control is an established name in the Netherlands within the fields of credit management, finance & control and data and process professionals and has been on our wish list with possible reinforcements for a while."
With the arrival of Greenberg Capital, the founders William Peek and Toine Priem and shareholder Roy van Dalsem will be bid farewell. Ruut-Jan Bakkenes and Boudewijn Ingwersen will stay on as director and shareholder.
Partner | Advisor Corporate Finance at Aeternus, Bas van Soest: "After an intensive and dynamic transaction process, we can conclude that there are three satisfied parties: the sellers, the passing shareholders and the buyer."
The acquisition is an equity transaction, whereby Greenberg Capital will acquire 60% of the issued and outstanding shares of Career Control.
The directors, who are also shareholders of Career Control, Messrs. Ruut-Jan Bakkenes and Boudewijn Ingwersen , were guided in this process by Bas van Soest of Aeternus.
Aeternus congratulates Career Control and Greenberg Capital and wishes them every success in the future.
About Career Control:
Recruitment and secondment agency Career Control has been matching professionals to companies for 20 years. From starters on the labor market with a completed HBO or WO education up to and including management level. They have specialized in the fields of Credit Management, Data & Process and Finance & Control. They offer: Interim management, secondment, recruitment & selection and executive search.
About Greenberg Capital:
Greenberg Capital is an independent private equity party. The team of advisors and private equity management professionals has decades of experience in the complexities of capital raising, asset management and disruptive investing. Greenberg Capital has extensive experience in recruitment and interim management with Greenberg Nielsen, Greenberg Staffing, Sales11 and KOOT Professionals, with offices in Amsterdam and Rotterdam. With the addition of Career Control, with offices in Utrecht and Eindhoven, the group becomes active in other areas in the Netherlands and the secondment of its own professionals is added.