A look at the South East Asian M&A Market
According to an S&P Global Market Intelligence analysis Southeast Asia, Australia and New Zealand led the region in total M&A deal volume for the first half of 2022.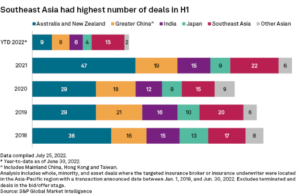 Southeast Asia had the second-highest deal volume after Australia and New Zealand during the period in the first half of 2022 and equalled its total from 2020. Southeast Asia logged a year-over-year decline in deal volume in 2020 when the COVID-19 pandemic first began.
There are noted differences from an M&A perspective as there are a quite a low number of very big businesses and a high number of very small firms without very much in the mid-market space. In the U.K. and Europe, the mid-market space is much larger and drives much of the M&A activity,
There are also significantly different regulatory, language and cultural landscapes which needs to be considered when undertaking M&A in Asia, particularly for firms headquartered in the U.S. and Europe.  On the whole, the Asia-Pacific region offers great potential for long-term growth and wealth creation.
Foreign investment is possible in many areas. Particularly attractive at the moment are the energy and infrastructure sectors as well as industrial manufacturing.  Since Thailand keeps pushing its digitalization agenda ("Thailand 4.0"), potential opportunities can be seen in the areas of automation and robotics.
Internet penetration in Southeast Asia stands at 70%, higher than the global average of 59.5%, making the region attractive to foreign investors. Furthermore, digital adoption is still in its early stages, meaning investors can feel confident they are entering a growing, not overcrowded market.
Analysts believe that tech start-up growth will continue. There are currently more than 35 technology start-ups in Southeast Asia who have achieved unicorn status. These range across e-commerce, fintech and SaaS (software as a service) fields.
Digital disruption and supply chain issues has made companies look cross-sector and cross-border to expand capabilities and market reach.
With an increase of 42 % in Foreign direct Investment in 2021, this goes to show not only the resilience of the region but also compares favourably with the 30 % average growth in developing economies. (WIR 2022)
In our upcoming Bangkok Convention,  organized by our Partner in Thailand – PYI, these topics will be covered more in depth. Please click here for more information regarding the programme and pricing.
Sources: S&P Global, Asean Investment report, WIR 2022