BHSL has acquired Glan Agua and targets more sales profit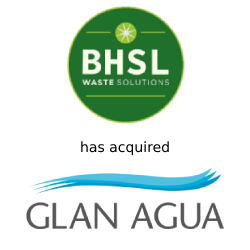 BHSL, a rapidly growing environmental management company, has announced that it has agreed to acquire Glan Agua, a leading clean water and wastewater solutions business. Glan Agua works with leading water utilities in both the UK and Ireland and is a division of a Portuguese engineering and construction company.
Focus Capital Partners, our Partner in Ireland, advised BHSL on the acquisition of Glan Aqua.
BHSL is a 'waste to value' company that provides technological and engineering solutions to the growing global waste market by simultaneously providing an alternative to waste disposal by converting waste to heat and electricity. BHSL is focused on providing multi-sector solutions for the circular economy and assisting clients to achieve net-zero carbon targets. The combined businesses will have over 300 staff across the UK and Ireland and plan to invest in the expansion of Glan Agua which will involve hiring a further 50 staff in the coming months.
Glan Agua has a growing reputation in project delivery and a strong pipeline of new business opportunities in the water treatment, supply, and wastewater management sector. Glan Agua's customers include Irish Water, Thames Water, Affinity Water, Yorkshire Water and a number of other Local Authorities in both the UK and Ireland. It also has particular expertise in the food and pharmaceutical sectors.
Glan Agua's integration will add a powerful fourth strand to BHSL's existing triumvirate of businesses which comprise:
BHSL Waste Solutions: owner of patented fluidised bed combustion (FBC) technology capable of converting waste residues such as poultry manure, municipal sludge and waste by-products into heat and energy.
Hydro International: a leading industrial wastewater treatment solutions provider, with a business that is directly complementary to Glan Agua's expertise in municipal wastewater. BHSL acquired Hydro in 2017.
Glanway: a strategically located waste processing facility in Waterford Port licenced to process 230,000 tonnes of household waste annually. Glanway was acquired by BHSL in 2018.
The acquisition is supported by a recent debt and equity funding round, attracting support from Irish and international sponsors. Funds raised will support the acquisition and provide growth capital for further expansion.
Denis Brosnan, Executive Chairman of BHSL said: "Glan Agua is an excellent fit for BHSL and the acquisition supports our strategy to expand as an environmental solutions business, focused on extracting value from waste products, and supporting the circular economy. Glan Agua's blue-chip client base in the UK and Ireland provides a strong platform for further expansion in the municipal water and waste sector. Our well supported fund raise provides us with the financial resources to support this acquisition and to drive our growth strategy."
Karl Zimmerer, Managing Director of Glan Agua said: "Joining with BHSL is an exciting step for the Glan Agua team, where we will become part of a rapidly growing business with a focus on the water and waste management industry in the UK and Ireland. Glan Agua has a proven track record of delivering for its customers through our 13 years in business, and we share BHSL's commitment to innovation and helping our customers address environmental challenges safely, sustainably and responsibly, creating value with waste residue where possible."
Glan Agua was established in 2008 and since then the company has grown to become an industry leader in the environmental engineering sector, providing turnkey solutions for clients across Ireland and the UK. Based in Loughrea, County Galway, Glan Agua is one of the most significant providers of water and wastewater treatment systems in Ireland and is growing its presence rapidly in the UK market.
Glan Agua is comprised of three operating businesses which will all be acquired by BHSL:
Glan Agua Ltd, providing turnkey solutions across water and wastewater services in Ireland
MEIC Ltd; sister company to Glan Agua Ltd that provides specialist water and wastewater water civil, structural, environmental engineering, and architectural services to support Glan Agua's work for clients across Ireland
Glan Agua UK Ltd, currently delivering on a number of procurement frameworks for UK utilities, and expanding to offer full design, build, operate and maintain (DBOM) services across water and wastewater management.
The acquisition is subject to approval from the Competition and Consumer Protection Commission (CCPC).