Foxpak announces their sale to the US NYSE listed Sealed Air Corporation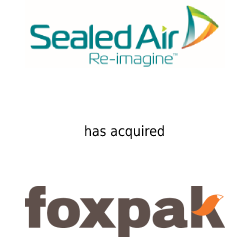 Our Irish MAWW member Focus Capital Partners ('Focus') completed this significant and high profile deal with a global US-based and NYSE listed company operating in the food packaging sector.
Sealed Air ('SEE') has announced the acquisition of Foxpak Flexibles Ltd ('Foxpak'), under SEE Ventures, its initiative for investing in disruptive technologies and business models to accelerate growth.
"From the outset, Focus Capital provided excellent professional advice to Foxpak during the sale process. The commitment, time and dedication led by Brian Barrett and Niall McGann was exemplary. Their astute commercial judgement was key to the successful sale to Sealed Air Corporation. "
Paul Young, Managing Director – Foxpak.
'Focus were delighted to have advised Foxpak Flexibles Ltd on the sale of the business to US NYSE listed Sealed Air Corporation. This transaction represents another M&A transaction in the emerging packaging sector in Ireland. It is an excellent example of a significant cross-border transaction for a high growth Irish SME business and it is exciting to see further FDI investment from a world renowned US multinational in Ireland.'
Brian Barrett, Associate Director – Focus Capital Partners.
Established in 2001, Foxpak is an Irish owned Company supplying flexible packaging across Ireland, UK & Europe. The Company supplies a range of stand-up pouches, printed film, sachets and spout pouches to the health food, pet food, seafood, cereal, confectionery & snack sectors. The Company is a pioneer in digital flexible packaging, with over 13 years' experience in digital printing.
When our members' Focus, in Ireland received the mandate in June of last year, there was a wide and far-reaching remit. They began their global acquisition search by using the MAWW network and contacted several members including Spain, Italy, Germany, France, Finland, Denmark, Sweden, UK and Lithuania.
Brian Barrett Associate Director of Focus noted that he received tremendous support and positive leads from all the members he contacted even though ultimately the deal wasn't completed using a MAWW lead.
In the autumn Sealed Air showed significant interest and negotiations began in earnest. SEE positions itself as, 'in business to protect, to solve critical packaging challenges, and to make our world better than we found it.' The company brings together packaging materials, equipment, services and automation to provide protection for products and people. The Foxpak acquisition has been made through SEE Ventures, the company's initiative for investing in disruptive technologies and business models to accelerate growth. The digital printing element of Foxpak's business was of strategic interest to SSE, as Foxpak has a long history of expertise in this area, their customisation of packaging was a key element. SSE also knew that Ireland was an excellent place to do business and a gateway for further European expansion.
The transaction experienced many challenges, with Foxpak's biggest challenges being ongoing Covid-19 restrictions, along with global supply chain delays.
While the deal was able to facility a single face-to-face onsite visit and management presentation, 99 % of the negotiations and due diligence were completed online and remotely.
Despite these headwinds, the strategic intent meant that both parties still wanted to do a deal and this was achieved after nearly a year of intense work on both sides of the transaction. The majority of the due diligence was undertaken by the buyer and Focus provided access to a virtual data room which streamlined the entire process. The transaction documentation also experienced some challenges, revolving around the differing deal and legal approaches adopted in the US versus Ireland.
Focus had a very good and dynamic relationship with the purchaser which helped tremendously and although it was a longer than expected transaction, it was concluded relatively smoothly.
"Foxpak will build on our digital packaging solutions where graphic design and digital printing are key areas of value creation. Foxpak is recognised as a customer-centric, digital printing pioneer," said Ted Doheny, president and CEO at SEE. "Together we will accelerate our digital future with innovations in smart packaging for leading brands around the world."
We congratulate Focus on this fantastic deal.