Vekka Group Oy buys Lehtimäki Liikente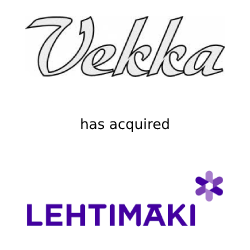 Vekka Group Oy gets stronger in Päijät-Hämee and Uusimaa by buying the entire share capital of Lehtimäen Liikenne Oy. With the significant transaction, Vekka Group becomes one of the largest bus groups in Finland, operating around 400 bus units with more than XNUMX professionals.
Armatori, our Finnish Partner, advised Lehtimäen Matkat Oy on the sale.
The traditional, 90-year-old Lehtimäen Liikenne Oy has grown to become a pioneer in the Finnish market in charter and tourist traffic through systematic work. Today, the company employs more than 140 public transport professionals in scheduled and local transport, operating a modern fleet of around 100 buses.
– Thanks to the deal, we will have broader shoulders in the future to operate in a capital-intensive industry, but still cherishing the values ​​and operating methods of the family business, states the current CEO of Lehtimäki Liikentee Mikko Lehtimäki, who is satisfied with the transaction with Vekka Group.
The completed arrangement is part of Vekka Group's growth strategy.
– With the deal, Vekka Group is able to serve its customers even more versatile. Our geographical operating area is also growing significantly, says Vekka Group's CEO Tomi Vasiliev.
Vekka Group CEO Tomi Vasiljev will also be the CEO of Lehtimäki Liikente in the future. Salespeople Sanna and Mikko Lehtimäki continue to work for the group.