Uniphar to buy McCauley Pharmacy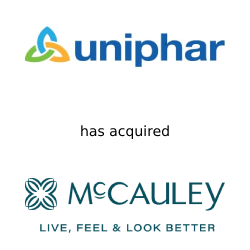 The acquisition of McCauley adds 37 retail pharmacies to Uniphar. The deal, which is subject to approval by the Irish Competition and Consumer Protection Commission, will be earnings accretive from completion, Uniphar said.
Focus Capital Partners, our M&A Worldwide Partner in Ireland, advised on the sale of McCauley Pharmacy Group to Uniphar PLC.
Earnings will be enhanced further through leveraging the group's scale and infrastructure and the acquisition is expected to deliver a return on capital employed in line with Uniphar's target rate of 12 per cent to 15 per cent within three years, the company added.
While the financial terms of the deal were not disclosed, Davy analyst Colin Grant and Goodbody Stockbrokers analyst Adam Barker each suggested it was worth about €50 million.
CCI, a fund set up by US private equity giant Carlyle and Dublin-based Cardinal Capital, bought a majority stake in McCauley in 2017. CCI owns 61.2 per cent of McCauley Pharmacy while Sam McCauley and his wife, Leslie, own a combined 29.9 per cent, with the remaining 8.9 per cent of the stock tied up in a management incentive scheme, according to the most recent Companies Registration Office filings of the group's ultimate parent, LXV Remedies Holdings Ltd. Tony McEntee is the group chief executive.
The McCauleys, both pharmacists, joined Mr McCauley's father's family-owned chemist shop in Enniscorthy, Co Wexford, in 1978 and went on to grow the business into one of the largest retail pharmacy groups in the Republic.
CCI, which was established almost a decade ago, has been selling its holdings in recent years, after the fund came to a natural end. Other investments that have been bought and sold include stakes in Lily O'Briens Chocolates, cooked meats company Carroll Cuisine, insurance and roadside assistance provider AA Ireland, payments firm Payzone and the City Bin waste management business.
Mr Grant of Davy said McCauley Pharmacy was "extremely complementary" to Uniphar's existing portfolio, and that the deal is comparable to the company's purchase of the Hickey's chain of pharmacies in 2020.
"Opportunities for acquisitions on this scale are rare," he said. "It boosts Uniphar's market share of owned pharmacies in Ireland from 5 per cent to 7 per cent (now 140 pharmacies), and the company has existing relationships with a further 280 pharmacies.
"We expect the acquisition will be funded from the company's new €400 million revolving credit facility, which was announced with the recently reported interim results.
"There are significant additional opportunities for acquisition growth to supplement Uniphar's strong organic growth profile," he added.
Uniphar chief executive Ger Rabbette said McCauley is "widely recognised as a leading provider of pharmacy and retail services in Ireland and a market leader in the delivery of health, wellbeing, and beauty products".
"McCauley's expertise in this sector, combined with its customer-focused digital platforms will further support Uniphar's consumer business, which continues to demonstrate strong growth," he added.
"The supply chain and retail division continued to outperform its medium-term guidance during the first half of the year and continuing to evolve our market leading service offering across this vital service sector remains a priority for the group."
Mr McEntee said the future of the business was in safe hands. "With Uniphar's strong track record in this sector, the future of the McCauley business is in very safe hands," he said.
"We extend our thanks to all McCauley staff who have played such a critical role in the transformation of the business over the past number of years and, in particular, for their hard work and tireless commitment throughout the Covid-19 pandemic."
Pretax profits at Uniphar jumped almost 10 per cent in the first six months of 2022 compared with the same period last year despite "continued macroeconomic uncertainty and inflationary pressures", the group reported last month.
In a first half trading update, Uniphar said turnover climbed 2.8 per cent over the period to almost €992 million. The group generated profits of €26 million before tax, up 9.9 per cent on the first half of 2021.
Listed in Dublin, the group provides integrated services to more than 200 multinational pharmaceutical and medical technology manufacturers.
It also has a substantial presence in the Irish retail pharmacy sector, accounting for more than one-fifth of the market.
Uniphar said its supply chain and retail division had "once again" outperformed medium-term guidance, delivering organic growth of 5.2 per cent with sales topping €65.7 million in the first half of 2022, up 8.2 per cent on the first six months of last year.
Source: The Irish Times