The Belgian private equity party RENARDMONT takes over the Dutch company STIJLLUX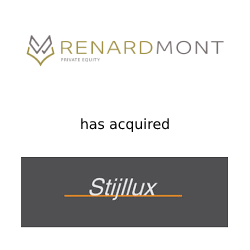 RENARDMONT is a Belgian investment fund for growth companies. "We use the focus as with private equity, but have the long-term patience of a holding," says Luc de Werdt Director of RENARDMONT. Eighteen months after the Belgian growth fund RENARDMONT took over the company DECOLINE in Pelt, it is ready for the next step towards the Dutch market. It takes over 100% of the shares of STIJLLUX. "This acquisition fits in perfectly with our strategy to continue to grow both organically and through acquisitions," says Maarten Bynens – Director of RENARDMONT. Paul and Karen are delighted to have RENARDMONT as their successor and are confident about their future partnership with the investment fund.
Aeternus, our M&A Worldwide Partner in the Netherlands, advised Stijllux on the sale.
About Stijllux
The activities of STIJLLUX consist of (wholesale) trade-in and assembly of window decoration and position itself as a private label production company. The product categories in which STIJLLUX is active are (duo) roller blinds, pleated blinds, panels, slats, wooden and aluminum blinds. For almost all product categories, STIJLLUX takes care of the entire process from purchasing the materials, assembling the products to packaging and delivery.
About RENARDMONT
RENARDMONT is a Belgian investment fund for growth companies. The focus is on growth companies with an EBITDA between EUR 500,000 and EUR 2,000,000 that already have professional management and a good structure and that need a partner for their further growth, internationalization or further product development.
The fund consists of about 10 Flemish entrepreneurs and investors (families) as a result of which RENARDMONT has extensive and complementary knowledge and experience.