PNdata enters the bosom of the IDAIA Group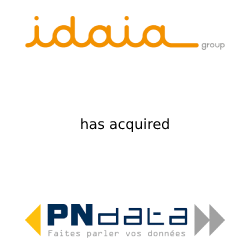 PNdata has been a major player in customer relations since 2002, working at all levels, from recruitment to retention, including reactivation. It devotes a significant part of its budget to R&D by creating new products, in particular the CRM PNManager® dedicated to the VAD, Press and Charity sectors. It has been able to evolve on expertise specific to customer relations, both by developing targeting thanks to its Tandem database, but also by working on advertisers' issues to offer value-added offers such as the look-alike method. or data management. Players in the Data Marketing market have seen their regulatory framework tighten over the past few years, encouraging them to come together in the face of the resources now needed to innovate.
Henry Journée, President of PNdata, has therefore decided to join forces with the IDAIA Group: "We needed to rely on a structured group, with established support functions, to respond to advertisers, both in terms of the offers offered and the speed of execution. The IDAIA Group, through its large marketing and communication value chain, will allow us to call on its experts, particularly in digital, to offer a more complete response to our customers. "
MBA Capital, one of our Partners in France, advised the partners of PNdata to carry out their transfer-backing project and strengthen their Data Marketing offer. It was after a competitive process that the project led by Régis Barbier, IDAIA Group, was selected.
The IDAIA Group, as a global partner in marketing communication, offers companies a modular, extended and interactive value chain: consulting, capital of enriched and exclusive B2C and B2B data, customer knowledge, creative intelligence and technological power. It now has more than 100 employees spread over Bordeaux, Niort, Paris, Strasbourg, and now Lille and invests 10% of its turnover of 16 million euros each year in the IDAIA Lab department, its internal R&D unit.
Statements: 
"PNdata is an actor that we have been following for many years. The quality of its work and the expertise of the teams are recognized in their preferred markets. The integration of PNdata will be an opportunity for us to consolidate our Data offer, to establish our leading position in the Charity sector with PNdata's CRM, but also to get closer to our Lille customers." Nathalie Schulz, Managing Director of the IDAIA Group
"We are very happy to be able to offer Henry and his team a technical, legal and organizational infrastructure to support them in their development." Régis Barbier, founder of the IDAIA Group.