Omnicap, our Belgian M&A Wordwide partner, advised Chrisal N.V., a Belgian industrial biotechnology company, to sell to the swiss Company Heiq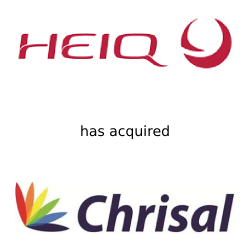 Material innovator HeiQ announced that it has acquired Chrisal N.V., a Belgian industrial biotechnology company, adding probiotic ingredients and technology platforms to its offerings.
HeiQ announced that it has acquired 51% of the share capital and voting rights of Chrisal N.V., Belgium, which will be renamed HeiQ Chrisal. Chrisal is a biotechnology company and a leader in innovative ingredients and consumer products that incorporate the benefits of probiotics and synbiotics. It has three technology platforms, all with the purpose to create healthy and sustainable microbial ecosystems. The application of its proprietary technology includes cosmetics, personal care, textiles, wound dressings, water purification, air treatment and cleaning products. Chrisal has its office, manufacturing site and bottling facility in Lommel, Belgium. 
With this acquisition,  HeiQ underlines its strategy of becoming a global leader in materials innovation, gaining access to the technology platform of prebiotics, probiotics and postbiotics for bio-based odor & stain control for carpet & footwear, anti-allergen effect in mattress and bedding, microbial and viral protection for surfaces, anti-inflammatory effect in wound dressings, probiotic skin enhancing cosmetics, algae and biofilm control in drinking water as well as advanced synbiotic surface protection. With this strategic acquisition HeiQ enters the broader market of surface management and accesses a bio-based green complementary technology platform to its immensely successful antimicrobials. 
HeiQ co-founder and CEO Carlo Centonze said: "The acquisition of a majority stake in Chrisal brings multiple benefits to HeiQ and its shareholders. The acquisition will progress our direct-to-consumer offer and enlarges our product offering to hygiene-sensitive environments, such as the healthcare sector. HeiQ is increasingly becoming more than a textile technology company; we are innovating materials more broadly. This acquisition of a leading probiotics business is aimed at making HeiQ a leader in probiotic innovation. Chrisal's culture of entrepreneurship, people empowerment, sustainability, innovation and lean processes are a perfect match with HeiQ." 
Corrie Gielen, President of Chrisal commented: "For 30 years Chrisal has built on new technologies to improve our world in a sustainable way. With our latest patented Synbio® technology we have found the best solution to strengthen products, people and our environment. We are confident that the new partnership with HeiQ will bring us the additional competences and network needed to globalize this beautiful and groundbreaking technology. Together we combine the best of nature with the latest in science to make the difference for a better world."