Omnicap, our belgian M&A Worldwide partner, advised Technics & Applications in the sell to Waterland Investments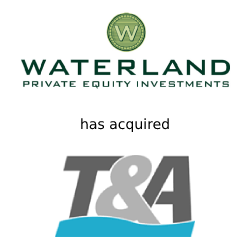 The Waterland investment fund will be the new main shareholder of the specialist in swimming pool covers Technics & Applications (T&A). The founding family and management remain on board.
The Waterland investment fund buys a majority stake in T&A for an undisclosed amount. Waterland will provide the family business with additional resources and support the growth of the company. T&A will invest, among other things, in the expansion of the current production and storage capacity and in the development of new products. Acquisitions will be examined in parallel. Founder Ludo Vervoort and CEO Joeri Dils – not a member of the founding family – will remain in post after entering Waterland.
De Tijd had already reported at the end of November that T&A was conducting talks with the help of the merger and acquisition house Omnicap about the entry of a (financial) partner into the company.
Founded a quarter of a century ago by Vervoort, T&A is one of the largest manufacturers of automatic swimming pool covers in Europe. It sells them under the Aquatop, Aquagard, Rollover and Spaflex brands and has a turnover of more than EUR 30 million.
Covers – like other elements of or around the pool – are increasingly automated. More and more Belgians have a swimming pool built in their garden or opt for an indoor swimming pool. In 2019, an estimated 2,750 new private swimming pools were built in our country (+ 10%).
Climate change
It is expected that the number of swimming pools constructed last year should have been (much) higher. Due to climate change, but also due to the fact that Belgians opted much more for a holiday in their own country due to the corona crisis. 'That trend will continue next year. But the question is whether this will also be the case afterwards. The market is not endless and it still requires a certain budget, "said one observer a few months ago. The average price for the construction of a swimming pool is 54,000 euros. Although there are also swimming pools for a starting price of 35,000 euros.