Navan Horse Racing Festival
During the upcoming 40th MAWW Convention in Dublin on the 15th to 17th of November 2023, Focus Capital Partners have organised a host of exciting events for Spouses or those interested. These include shopping, visiting the Fantastic Guinness Storehouse, and sightseeing among others.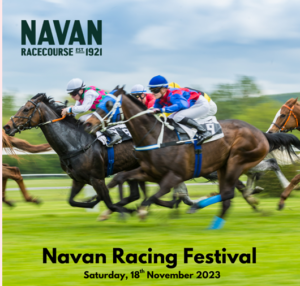 In particular, for those who have or have never been horse racing are in for a real treat!
On Saturday, 18th November 2023 you will be able to experience the thrill of the Navan Horse Racing Festival with thundering hooves, the beauty of majestic horses and the electrifying atmosphere of one of the most anticipated horse racing events of the year.
Taking place in the vibrant town of Navan, we will enjoy lunch in the Hospitality Suite of the Racecourse with a view of the Racecourse and easy access to the parade ring, betting and bar facilities amongst other racing enthusiasts, jockeys, trainers and spectators from all around the world. With its rich heritage and reputation for top-class racing, Navan is the perfect setting for a memorable horse racing experience.