Linkers, our French partner, advised ALCO to sell to a subsidiary of the italian CTA Group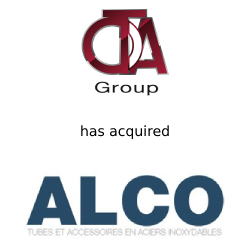 SECTOR(S): INDUSTRIALS, SERVICES AND DISTRIBUTION
ACTIVITY: PROVIDER OF SEAMLESS PIPES & FITTINGS STAINLESS STEEL
ALCO has specialized since 1979 in the storage and supply of seamless stainless steel pipes and valves, carbon steels, alloys and special steels, the main products of which are tubes, seamless tubing and fittings, fittings, flanges, sheets, accessories, raw and cut sheets and machinated parts following drawings.
ALCO holds a set of certifications and qualifications (RCC-M, RCCMX, RCCMR, STD, EN 9120) resulting from its efficient management and quality control system. The company is present as a qualified player in strategic and advanced technology markets, in particular the Nuclear, Aeronautics, Space, and Defense industry.
LINKERS acted as sole financial advisor to the Vendor.