LINKERS advised on the sale of ESCI to the ACORUS group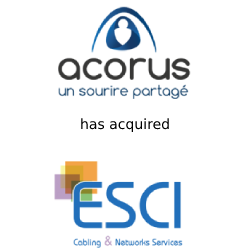 ESCI, one of the independent leaders in VDI cabling systems
Founded in 1991 by Thierry LE CALVEZ and located in Villeneuve la Garenne (92), ESCI is positioned as a benchmark player in VDI (Voice / Data / Image) cabling and IP technologies. Its activity revolves around 10 agencies spread over the entire national territory which allow it to support its multi-site clients in industry, mass distribution, health and the tertiary sector.
With a very experienced team, made up of project managers and certified technicians, ESCI achieved a turnover of nearly € 5 million in 2020. Installer approved by several manufacturers, in particular through a strong partnership with CommScope, the company offers certified and standardized solutions.
Linkers, our M&A Worldwide Partner in France, advised ESCI  on this operation.
Sale to ACORUS, a building services group with a turnover of € 150 million
After developing ESCI for 30 years, Thierry LE CALVEZ wanted to bring his company closer to a human-sized group able to implement technical and commercial synergies.
ACORUS, a building services group whose mission is to renovate real estate assets on occupied sites, has around 1,100 employees working in 13 distinct trades, spread over 12 agencies organized into autonomous mini-companies of around ten people. ACORUS carries out more than 100,000 interventions and more than 200 rehabilitation projects each year.
The group has been pursuing an active external growth process since 2010 with the support of its early shareholder, NEXTSTAGE AM. By combining targeted external growth operations and structured organic growth, the group has succeeded in multiplying its turnover by 7 to reach € 150 million in 2020.
Through this acquisition, ACORUS intends to enrich its global renovation offer by internally controlling the IT cabling professions (copper, optical fiber, wifi, data center, etc.) and the very demanding logistics of the multi-site deployment of security systems. wiring.
ACORUS intends to continue this development strategy to strengthen its establishments in the provinces (Bordeaux, Lyon and Nantes) and to conquer new markets in Ile-de-France.
Philippe BENQUET, Chairman of the ACORUS group declares: "This acquisition is perfectly in line with the Group's development process that has been under way for several years. The integration of ESCI will undoubtedly bring value to ACORUS given its organization and the quality of the people who run it on a daily basis. I would also like to thank Thierry LE CALVEZ, who retains the operational management of ESCI, and places his trust in us as part of this transfer which ensures the sustainability of the company he founded and successfully developed ".
Thierry LE CALVEZ declares: «A wonderful and great adventure begins for the ESCI teams. Our integration into the ACORUS Group is going perfectly, Philippe BENQUET and his teams being very present on a daily basis to support us and set up synergies. On a personal level, the industrial project presented by Philippe BENQUET immediately seduced and convinced me. I thank him for leaving me the operational management of ESCI and I am very happy to be able to support him on additional development projects. Thank you also to Jérôme LUIS for his precious support throughout the process! »