Hems B.V. & Tomassen Vlees B.V. deal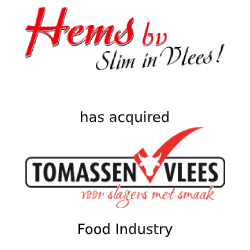 Tomassen Vlees has been acquired by Hems B. V.
Aeternus has acted as the advisor of Tomassen Vlees.
Tomassen Vlees from Someren has been taken over by Hems BV from Oss on 8 June 2020. The slaughterhouse and the two shops in Someren and Heel are not part of the takeover. Brothers Mike and Dennis Tomassen will continue with the slaughterhouse and their own butchers and will hand over the personnel and customers of Tomassen Vlees to Hems in the coming period.
With the acquisition of Tomassen Vlees, Hems increases its customer density in the south of the Netherlands and contributes to a better overall operational capacity.
About Tomassen
Tomassen Vlees is a family business in which the craftsmanship of father and mother is passed on to both sons. In the early 1970s, Jan and Mia Tomassen started their business in Someren. In the mid-1990s, brothers Mike and Dennis, as the second generation, took over all activities from their parents. Tomassen Vlees is a renowned wholesaler of meat and related products and supplies a nice customer base of (traditional) butchers in Brabant and Limburg on a weekly basis. The Someren family business itself took over Sampers Vleesgroothandel in Roermond some twenty years ago.
About Hems
Hems bv started in 1985 as a regional supplier of pork for independent butchers. In the meantime, partly due to the opening of its new location in Oss in 2017, Hems bv has grown into an internationally operating supplier with a complete range of meat and meat products.