Groupe EMN & Point Bleu deal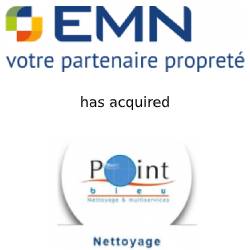 EMN Group has completed a 13th external growth transaction advised by LINKERS with the acquisition of POINT BLEU NETTOYAGE.
This acquisition allows the EMN Group to strengthen its local presence in Poitiers and the region where it has been established for 3 years, since the acquisition of the company AZUR NET POITOU in 2017, to go further in its local expansion with a new presence in La Rochelle and also to strengthen its positioning as a key player in cleaning services of common parts of buildings with property management companies.
EMN Group, a cleaning services specialist in France regions
EMN is a Normandy-based (northern France) family-owned business taken over in 2006 by current CEO Johann Moulin, the son of the founders. It specializes in cleaning services for offices, buildings, and common areas of apartment blocks.
The EMN Group is established in the west of France: Normandy (Cherbourg and Caen), Brittany (Brest and Rennes), Loire-Atlantique (Nantes), New Aquitaine (Poitiers, Angoulême) and in Paris area. The Group has grown very rapidly both organically and through several acquisitions made since 2010. The company generated annual consolidated revenue of €33 million before these new acquisitions.