CBPE Capital completes investment in Veincentre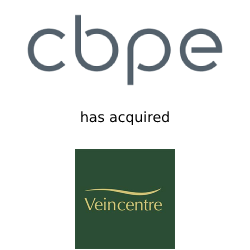 The transaction saw the sale of Palatine Private Equity's stake to the incoming investor, CBPE Capital (CBPE).
Rickitt Mitchell, our Partner in the United Kingdom, advised the management team of Veincentre on their investment from CBPE.
Rickitt Mitchell was delighted to advise the management team of Veincentre on the transaction which saw Palatine Private Equity, and the founders of the business, sell their stakes in Veincentre to CBPE Capital (CBPE) and the management team.
This transaction follows an earlier transaction, on which Rickitt Mitchell also advised the founders of Veincentre on its investment by Palatine's impact fund to enable a national roll-out of treatment clinics from seven at the time of the original investment in July 2019 to twenty-two at the time of the investment by CBPE.
The business was founded in 2003 by clinician Dr David West and his wife Deborah to offer non-invasive, non-surgical treatment for varicose veins called Endovenous Laser Ablation.
Dr West said:  "Deborah, my daughter Katherine and I are very proud of the business we established and grew."
"Veincentre was based on six key values for the benefit of both patients and staff. Honesty, safety, effectiveness, efficiency, respect and value for money. Whilst there is a touch of sadness that we are, after many years, exiting the business, we are happy to be passing our company into the ownership of Anand and his team at CBPE and the management of Maurice and our excellent senior managers, who we know will uphold these values, which proved so crucial to the success and reputation of the business."
"We send our very best wishes to all who work in, have financial interests in and crucially are to use the services of Veincentre in future."
CBPE's investment will support the management team of Veincentre in their ambitions to continue to grow the portfolio of clinics, creating access for many more people to get successful treatment for their varicose veins
Chief executive Maurice McLoughlin said: "Having provided such invaluable advice to the shareholders during the initial transaction with Palatine back in 2019, the current management team, including myself, trusted Rickitt Mitchell to provide strong, independent advice during negotiations between the incumbent shareholder group and CBPE.  Rickitt Mitchell provided exceptional support throughout and were always on hand to help fight our corner."
Neil Mitchell, Partner at Rickitt Mitchell, said: "We are delighted to have advised an ambitious and talented management team on successfully concluding this phase of investment into Veincentre. With the backing of CBPE, Veincentre has a strong platform to continue its growth journey from and we wish Maurice and the team every success."