Avvalor Corporate Solutions assisted Tecnovac on the acquisition of Chrimax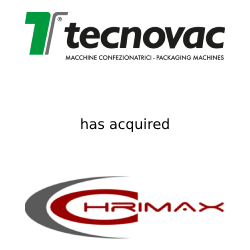 Avvalor Corporate Solutions, our Partner in Italy, assisted Tecnovac srl on the acquisition of Chrimax srl.
Both companies are based in Northern Italy and manufacture flexible packaging machinery, mainly for the food industry.
Tecnovac srl was founded in 1988 as a manufacturer of machines for packaging food products.
Over time it managed to carve out an important role in the packaging sector, ranging from food, to industrial, to pharmaceuticals. Tecnovac offers a wide range of modern conception machines, designed and built with the highest quality standards.
Chrimax srl specializes in the design and construction of flow pack packaging machines for food or technical products. It designs and manufactures flow pack machines, automatic loading and trapping systems and conveyor belts based on the geometry of the customer's warehouse.
Avvalor assisted Tecnovac in all phases of the M&A process, from the identification of a series of potential acquisition targets to the negotiation of the terms of the transaction, up to the closing phase of the deal.
Fabrizio Ricci, Partner and President of Avvalor, worked on the project, commenting: "We have supported Tecnovac with conviction, confident in its growth strategy. With the latest operations, Avvalor confirms its skill to assist Italian SMEs in their development plans, both for their financial needs and during mergers and acquisitions operations".