Aeternus assisted Wellplast with sale to Technical Wholesaler H&K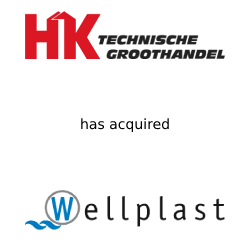 Technical Wholesale H&K takes over all shares in Wellplast BV in Ermelo. Wellplast BV's strong regional position as a consultant and total supplier forms a solid basis for further regional expansion. The takeover, therefore, fits well within the H&K group that last year took over Temmen & Koop from Emmen.
Aeternus, our Partner in the Netherlands, assisted the Wellenberg family in the sale of the family business.
Technical wholesaler Wellplast is a consultant and total supplier of technical products in the field of or related to water technology. Wellplast characterizes itself as a real family business in which both father and two sons are still active on a daily basis. With the acquisition of Wellplast, H&K is taking the next step in further regional expansion and the group can serve the Gelderland and Flevoland regions well from Ermelo.
"This trajectory was a textbook example of how a mutually constructive and respectful attitude throughout the entire process leads to a beautiful transaction result. H&K and Wellplast are a perfect match and we are convinced that both parties can look back on the transaction with satisfaction, but above all can look forward to a bright joint future." – Carlo Caria, Corporate Finance Advisor at Aeternus.
The Wellplast family was guided in this process by Carlo Caria , Tim Duine and Maartje Korten from Aeternus. The transaction was concluded in close collaboration with Michel Rabelink of Rabelink Finance Consultancy , Rick van Betten and Annelien Schuldink, Dommerholt Advocaten and Henri Roelofs and John van Duren of BWA Advice and Administration .
We would like to thank all parties involved for the professional and pleasant cooperation and wish Wellplast BV and H&K every success in further expanding this leading partnership.
About Wellplast BV:
Wellplast is the regional total supplier in the field of water technology and related products. The family business was founded in 2003 by Hans Sr. and is located in Ermelo with approximately 2,550 m² of sales space.
About Technical Wholesale H&K:
Founded in 1997, H&K is a technical wholesaler located in Zwolle and Nijverdal. Where everything is sold that is necessary for the transport of water, gas and air in homes and business premises. H&K's customers are therefore mainly installers and road and hydraulic engineers from the north and east of the Netherlands.
In addition to supplying products for the installation industry, they also offer the possibility to supervise complete projects.