Aeternus assists Interal TC in its sale to NEXT Truss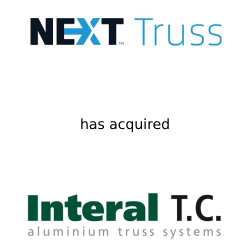 NEXT Truss takes over all shares in Interal TC in Venray. There is still plenty of opportunity within Interal TC to realize further growth. The acquisition of Interal TC fits within the strategy and ambitions of NEXT Truss, which aims to become a global player within five years and acquire a leading market position in the entertainment industry.
Aeternus, our Partner in the Netherlands, assisted the owners of Interal TC with the sale to NEXT Truss.
Interal TC has been producing truss systems for the entertainment industry since 2003. They offer both standard and custom systems of the highest quality, with a focus on customer service. The expertise present at Interal TC will make a positive contribution to future growth and development of new products.
Both parties will retain all employees within the new structure and will operate under one roof in Venray. This will lead to economies of scale for the customer and supplier.
'A special transaction of two leading parties active in the rapidly recovering entertainment industry.- Niek Jacobs, Consultant Corporate Finance at Aeternus.
The owners of Interal TC were guided in this process by Maurice Koopmans and Niek Jacobs.
We would like to thank all parties involved for the professional and pleasant cooperation and wish Interal TC and NEXT Truss every success in further expanding this leading partnership.
About Interal TC:
With 25 employees, Interal TC is one of the largest truss products in Europe. They offer both standard and custom-made solutions of a high quality and with a strong focus on customer service.
The company was founded in 2003 in Venray. Jan Verheijen, Jos Geertjens and Frank Claessens were employees since 2003 and took over the company in 2010.
About NEXT Truss:
NEXT Truss is part of Eurotruss Group vision. NEXT Truss was founded in 2020 and has a wide range of truss systems and staging solutions. The products are suitable for rental and permanent installations. The team stands for high customer satisfaction and is knowledgeable with over 100 years of experience in the market.