Aeternus assists Clevers Group BV with purchase and financing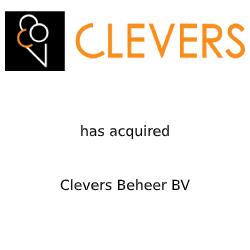 Clevers Group BV recently acquired the franchise activities and the ice cream factory from Clevers Beheer BV by means of a combined share and asset transaction.
Clevers Group BV is managed by Messrs Tom Vaessen and Joris Stappers . The day-to-day operational management of the ice cream factory is in the hands of Mr. T. Mandemakers , who has also taken an interest in the ice cream factory.
Vaessen and Stappers have also been joint owners of 5 ice cream parlors (Vaessen 4 and Stappers 1 ice cream parlor) for many years and in this way were already associated with Clevers Beheer BV as a franchisee and as a buyer of ice cream. Stappers to eventually also acquire the ice cream factory and the franchise rights and the seller's wish to continue the business in a good way.
After this takeover, Clevers Group's strategic plan is to increase the number of ice cream parlors in the south of the Netherlands in the coming years.
Aeternus advised Clevers Group BV on the purchase, the financing of the purchase was also realized through the mediation of Aeternus and the financing was provided by Rabobank , MKB Leningenfonds of the LIOF and a third financier.
We congratulate Clevers Group BV and seller Clevers Beheer BV with the acquisition and wish the buyers good luck for the future.
About Clevers
Clevers has grown into a household name in the region since its foundation in 1985. The Clevers franchise formula now has 7 branches in Brabant and Limburg, as well as an ice cream factory in Grubbenvorst.
More about Clevers https://www.clevers.nl/