Bring acquired a majority shareholding in Dream Logistics AB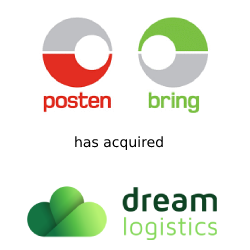 DHT Corporate Services AS, the M&A Worldwide Partner in Norway, advised Bring on the acquisition of a majority shareholding in Dream Logistics AB.
Bring is expanding in e-commerce in the Swedish market by investing in the logtech company DreamLogistics AB. Through the investment, Bring connects Sweden's fastest growing 3PL company. The investment in DreamLogistics is part of a large investment in fulfillment – an area Bring is investing several hundred million kronor in over the next few years.
Earlier this year, Bring announced that it is launching its largest investment ever in automation, Shelfless, in Sweden. It is now clear that Bring is also investing in Logistics, with a majority share of the logtech company DreamLogistics AB. Through the investment, Bring brings together expertise, digital functionality and experience in e-commerce logistics that will be important in the future.
"DreamLogistics has a strong position and an interesting customer base, which means that we strengthen our investment in Sweden significantly. Combining DreamLogistics' digital solutions and knowledge with our strong distribution network and green deliveries means that we will sharpen the comprehensive offering to our customers. In the future, customers can expect even greater freedom of choice – and a larger warehouse capacity", says Per Öhagen, Executive Vice President for e-commerce and logistics.
The combination of smart technology and logistics has proven to be successful. DreamLogistics AB is the fastest-growing company in Sweden within 3PL and has also become a gazelle company three times. Together, the two companies will give all online stores, regardless of size, access to stock solutions that only the largest online retailers have had the opportunity to – until now.
"With Bring as an investor, we will together be able to execute and scale up the journey we at Dream have begun but which we need more muscle to complete. Now we will be able to offer existing and new e-commerce customers world-class automation solutions", says Jonas Ahlgren, CEO and founder of DreamLogistics AB.
About DreamLogistics AB
DreamLogistics is a logtech company that specializes in automated warehousing solutions, connecting IT and logistics. DreamLogistics AB has 350 employees spread over facilities in Habo, Ängelholm and Borås. The company, which was founded by three e-retailers in 2010, has sales of more than SEK 300 million.