On the 9 of March, we plan to have a Webinar on the topic "What's new in Orbit", presented by Jose Correia, our IT Manager. It will be an update covering the new features and modules in Orbit, for new members and recent users, it is almost mandatory to attend.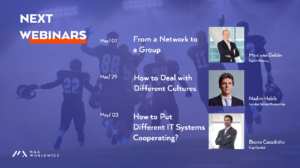 Still, in March, we will have Marc Van Gelder as a Speaker on the Webinar "From a Network to a Group".
Marc van Gelder is the Managing Partner of a law firm located in the Netherlands, and a Board member of Taylor Wessing, a full-service international law firm, working with clients in the world's most dynamic industries. Marc will share his experience in this transformation process in this webinar, from a network to an International Group.
At the end of March or the beginning of April, we will have Nadim Habib, a Faculty Member from the Nova School of Economics. The topic will be "How to deal with Different Cultures", and here we forsee a really fruitful group discussion, as the MAWW network also has expertise in this area, so we expect enthusiasm and a useful sharing of knowledge and experience.
Bruno Casadinho from Cap Gemini will lead the Webinar "How to Put Different IT Systems Cooperating?". We expect a practical vision of how to make IT systems support a global approach in the M&A market.
To close the first semester of 2023, John Slater and the FOCUS Investment Banking team will share with us their strategy for "Social Media at the M&A Service".