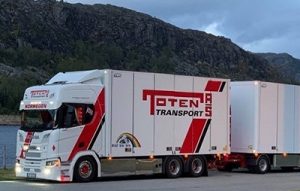 Please read this interview with our member from Norway, DHT, concerning the deal between Toten Transport AS and the Consortium backed by Litra as, Gausdal Landhandleri AS, Surnadal Transport AS, and LRN Transport AS.
This deal has some particularities. Could you tell us what the story behind this deal is?
The company was established in 1975 and owned by 26 lorry owners driving as subcontractors for Toten Transport AS. DHT was mandated to arrange a structured process to see if we could find a new partner and/or owner to support the further growth of the company. We completed the transaction in August 2020, in which four Norwegian companies within the industry acquired 70% of the company and the former owners reinvested 30%.
What was the rationale?
The owners wanted to get a new owner/partner to support further growth, realize synergy potential, and help the company achieve an even more competitive position in the market.
And how was DHT involved in the process? Was it already a client?
DHT supported Toten Transport AS in a project some years ago. We did a valuation in spring 2019 and started to work on the sales mandate in autumn 2019.
With this new management structure, do you think that Toten Transport AS is now more prepared for the changes that are coming soon?
Yes. Toten Transport AS alone has a turnover of approx. EUR 100 million, but together with the owners, the new group generate a revenue of EUR 250 million. Preliminary analysis indicates synergy potential on both costs and income and streamlining of operations can be done by learning of best practices within the group.
What lessons/benchmarks could have been taken from this process? 
We can expect further consolidations in this industry where large players have a better possibility to reduce the cost for purchase, streamline the operations, improve fleet management, increase capacity utilization, etc. This deal ended up with a Norwegian buyer for the company, but the interest from International players was considerable. We expect more transactions to take place in the future, and many of these as cross-border transactions, to secure an international organization to support local customers.