Total Specific Solutions ("TSS") has acquired 100% of Lusoinfo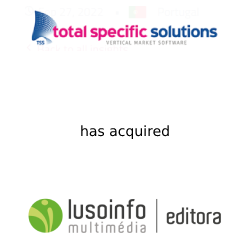 Fingeste, our M&A Worlwidide Partner in Portugal advised Total Specific Solutions ("TSS") on these acquisitions.
Edubox and Lusoinfo are software providers serving local governments with education management software in Portugal. These are TSS's second and third acquisitions in the Portuguese software market, following Algardata earlier this year.
Edubox's two leading software solutions are Siga and Sei. Siga is a modular and customizable platform for managing business processes at schools and related functions such as transport, meals, payments, etc. SEI is a platform allowing schools to monitor the entire academic process of students, from the enrolment process to their graduation or transfer and the daily management of the education process as a whole. Lusoinfo offers digital educational content like learning Portuguese in the 1st cycle of primary education in combination with classroom or home education content.
Michiel Walsteijn, General Manager at TSS: "We are pleased to welcome Edubox and Lusoinfo to TSS. These fast-growing companies offer complementary products, which are often sold together. The acquisitions allow us to combine their strengths and further develop this unique offering for the local government and educational market. As part of TSS, we can give them the support and insights so that they can take the next step and continue their growth path.
I look forward to working with Amaral Carvalho, Carlos Moreira and the teams of both companies and supporting them on the next step of their journey as an autonomous business unit of TSS."
Amaral Carvalho, Managing Director of Edubox: "We are an established company in the Portuguese market, and we have ambitions to continue our growth. To realize this, we need the backing of a large company. In TSS, we found a perpetual owner who believes in software for life, meaning they buy once and hold it forever. And they believe in independent commercial business units that concentrate on bringing value to their market. This type of ownership gives us continuity for our clients, employees, and the company. And we gain access to the vast library of knowledge and the many best practices for building successful software companies.
I look forward to working closely with Michiel and meeting our new TSS colleagues."
Carlos Moreira, Managing Director of Lusoinfo: "Edubox and Lusinfo are already working together. We focus on the same vertical and offer complementary solutions, so a sales process often includes both offerings. Working more closely will benefit the proposition we can offer to our clients. And it allows me to focus on new interests in parallel with the most interesting topics within Lusoinfo, as the continuation of Lusoinfo is sealed as part of the new business within TSS."
Edubox & Lusoinfo
Edubox is a technology-based company active in the educational and public sectors. The company specializes in developing education management software and related products. They also offer consulting services and vocational education and training. Lusoinfo offers digital educational content like videos, multimedia activities, digital content, and downloadable worksheets.