M&A Worldwide
>
News
>
News
>
Q1 2023 had the third-lowest global quarterly M&A deal volume in the last 10 years
Q1 2023 had the third-lowest global quarterly M&A deal volume in the last 10 years
(with a global deal volume of $559 billion) … and only Q1 2013 ($502 billion) and early-pandemic Q2 2020 ($442 billion) had lower quarterly deal volumes
Global mergers and acquisitions (M&A) activity shrank to its lowest level in more than a decade in the first quarter of 2023, as rising interest rates, high inflation and fears of a recession soured the appetite of companies for dealmaking.
M&A volumes during the first quarter slumped 48% to $575.1 billion as of March 30, compared to $1.1 trillion during the same period last year, according to data from Dealogic.
A banking crisis that started in the United States last March with Silicon Valley Bank and spread to Europe with the Swiss government-orchestrated sale of Credit Suisse Group AG to UBS Group AG roiled markets and stopped many deals in their tracks.
No doubt that the first quarter had extraordinary levels of volatility and uncertainty – more than expected going into the year. And that has the impact of postponing some announcements.
The next graph shows clearly that M&A volumes dropped 44% to $282.7 billion in the U.S. and 70% to $81.87 billion in Europe. Deal volumes in Asia Pacific fell 29% to $176.1 billion.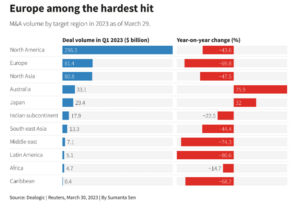 (At the end of the article you can find an image gallery where you can view the graphs with good resolution by clicking in.)
Many bankers have been stating that having a well-functioning financing market is a critical ingredient for M&A, and market volatility has clearly been a challenge and weighed on deal volumes in the quarter, but also, in the absence of debt financing, private equity firms were forced to write larger equity checks for their deals.
And of course, if this negative debt financing environment continues for a few years, investors may regret having over-equitized deals at the start. But if those investors keep some confidence that in the next 12-18 months, the financing market will improve and interest rates will come down, it's still a great time to transact now.
The total number of deals worth over $10 billion fell by a big margin from last year, as the appetite for large strategic tie-ups evaporated amid a tougher antitrust environment and macroeconomic uncertainty, but this was somehow expected in late 2022. The first quarter played out the way analysts thought it would, except for the banking crisis, which is the last thing we needed.
Taking a look at the next graph the activity decrease is obvious that there´s a lack of confidence: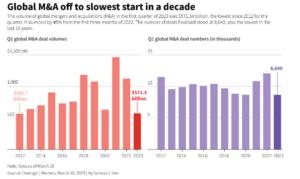 (At the end of the article you can find an image gallery where you can view the graphs with good resolution by clicking in.)
The depressed market valuations also presented an opportunity for prominent activist investors to launch new proxy fights, with dealmakers anticipating a boost to M&A volumes from activist campaigns in the coming quarters.
There are a lot of companies which have components that activists like in terms of non-core assets that can be sold or spun off, or the accumulation of cash that could be deployed in a better way, including through stock buybacks. So, all that is leading to more activism.
Investment-grade financing markets were a relatively bright spot during the quarter, as corporates were able to line up financing for deals and outbid large buyout firms on some high-profile auctions.
On the corporate side, if you are an investment-grade credit, the markets have been very strong and supportive. While you may have less interest from sponsors, you have got more interest from corporates who have been outbid over the last couple of years by the sponsor community.
Inflationary pressures aren't subsiding as fast as people expected, there are still a lot of geopolitical tensions, and in many ways, the disruption in the financing market is intensifying.
But what can we expect for the rest of 2023?
1 – More "Gold Digging" activity
With so many against tides, the eager to explore good investments hidden underneath the rock could increase.
2 – Focus on transformation
The keywords for PE and other investors are execution and getting things done. So more focus on transformation is expected, one with a more near-term perspective as opposed to more conceptual or strategic approaches.
3 – Play for secure
Due to the recent turbulent winds, dealmakers seek more certainty and risk mitigation. As such, two strategies private equity and corporate leaders are now pursuing with cross-border deals. First, acquirers are increasingly pursuing targets in areas geographically closer to home. Second, dealmakers are prioritising developed nations more for stability.
4 – Dry Powder still runs
With higher financing costs and other risks ascendant, many companies and funds are behaving more carefully: smaller M&A deals, more emphasis on restructuring (including spinoffs), and revisiting previous acquisitions and divestitures in search of greater returns. As such, there is a great deal of dry powder.
5 – IT (definitely) helps streamline
Technology is playing an amazing role in improving deal process efficiency and effectiveness.