Orthex Corporation sold its snow toy business to Wiitta Oy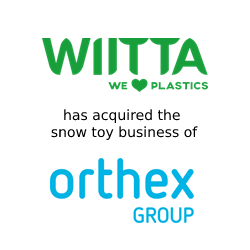 Armatori Corporate Finance, our Finnish Partner, advised its long-term client Wiitta Oy in the transaction where Orthex Corporation sold its snow toy business to Wiitta Oy
Orthex Corporation's net sales have grown strongly in recent years, with growth of 14.2% in 2020. Orthex's key goal in its growth strategy is to become Europe's leading brand in the Storage product category. Orthex focuses on the most important product categories and markets, and has decided to exit local snow toy manufacturing to make room for growth. Snow toys account for a small share of Orthex's Home & Yard product group sales. Orthex considers the continued production of products in Finland to be positive.
"We are very pleased to have found an excellent manufacturer for our snow toy products, which will continue to give Finns the opportunity to enjoy high quality sleds and snow shovels manufactured in Finland" says Alexander Rosenlew, CEO of Orthex Corporation.
Wiitta Oy is a Finnish family-owned company that has previously become known for manufacturing sewerage connectors at its factory in Heinola. Wiitta is now starting a new phase when it starts manufacturing its own consumer products.
"We are excited about the opportunity to continue traditions and offer consumers Finnish sleds and other snow toys. We believe that we at Wiitta have the potential to further develop this product category. At the same time, this is a new area of business and a place for growth for Wiitta Oy" says Wille Viittanen, CEO of Wiitta Oy.
The production of snow toys will be transferred to Wiitta Oy immediately and Wiitta will start manufacturing sleds, sliders and snow shovels already for the next winter season. The contract does not include any trademarks. The parties have agreed not to disclose the amount of the transaction.
Orthex in brief
Orthex is a leading Nordic houseware producer that strives to make consumers' everyday life easier with its products that are presented under the consumer brands SmartStore™ in storage products, GastroMax™ in kitchenware and Orthex™ in-home and plant care categories. Orthex aims to be the industry forerunner in sustainability.
Orthex's net sales in 2020 were 75.9 million euros and operating profit 12.3 million euros. The company has customers in more than 40 countries and local sales offices in Finland, Sweden, Norway, Denmark, Germany, France, and the United Kingdom. Orthex is listed on the Nasdaq Helsinki stock exchange.
Wiitta Oy in brief
Wiitta Oy is a partner for its customers' green future and will continue to be an enabler of red cheeks. We help our customers make more sustainable choices by bringing our expertise in versatile plastic materials and injection molding technology. We have gained significant experience in recycled plastics and various bioplastics and composites. The pipes we manufacture under the Wiitta brand are sold to about ten countries.
Wiitta employs more than twenty plastics professionals in Heinola. During the current financial year, we invested approximately EUR 1 million in machinery, equipment and products. In 2022, the company will celebrate 50 years of operation.