O'Neill Patient Solicitors ("ONP") & Inflexion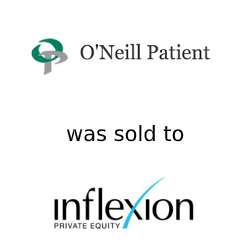 Established in 1987, Stockport‐based ONP processes over 88,000 transactions per year for residential property purchases and remortgages. The firm markets its services through its strong relationships with panel managers, mortgage brokers, and banks, whose referrals make up around 90% of ONP's businesses. The firm utilizes a sophisticated case management technology that enables it to offer market‐leading service and efficiency to customers, supporting unparalleled customer service, quality, and turnaround times.
With ongoing support from Inflexion, ONP is very well positioned to grow by gaining market share, both organically and through M&A, in a market that tends to be local and fragmented.
Paul Casey commented that "It was a pleasure working with Sue and her team, and we are truly delighted to have executed a transaction which not only delivers against the objectives of the existing shareholders but also places ONP in the hands of new shareholders who are very well placed to capitalize on the significant opportunities presenting themselves. The sale of ONP represents yet another successful exit and is further evidence of our larger deal credentials. It is a credit to our team who made sure that we drove this to completion, and we wish Sue and her new partners every success with the exciting journey ahead."