Omerin & Prince Medical Group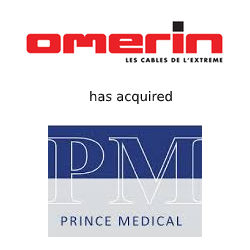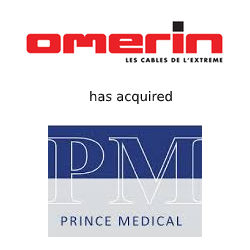 Business description: Medical devices
Deal value: 20 – 50m
OMERIN strengthens its health division and acquires the PRINCE MEDICAL Group
On November 25, 2019, the OMERIN Group signed the acquisition of 100% of the shares of the PRINCE MEDICAL Group, whose head office is based in Ercuis, in Oise (60).
The company designs and manufactures single-use medical devices in the fields of gynecology, gastroenterology, and urology.
This operation strengthens the OMERIN Group's Health pole and puts the multiple synergies with the Group's companies into perspective.
PRINCE MÉDICAL, founded in 1993 by Jean-Claude PRINCE, specializes in the design, manufacture, and distribution of single-use medical devices. These Class IIa, Class IIb, Class I sterile and Class I non-sterile products are intended for:
– gastroenterology (cleaning brushes for endoscopes, balloon probes, injection needles, etc.),
– gynecology (Chéron forceps, specula, insemination cannulas, etc.), In-Vitro fertilization,
– urology (urodynamic catheters),
– medical imaging (external radiology lines), oxygen therapy, anesthesia-resuscitation, etc…
The company, certified ISO 13485, relies on technical know-how in the extrusion of thermoplastics, polymers and advanced equipment to meet the needs of markets with demanding applications. The perfect mastery of its industrial processes is the key to its success.
The PRINCE MEDICAL Group today employs nearly 465 people spread over 2 manufacturing sites:
– Ercuis (60), the head office: 35 people in charge of Innovation, Design, Development, and Regulatory Management devices, as well as their sterilization and packaging.
– Bizerte, in Tunisia: 430 people dedicated to the manufacturing (injection, extrusion, special processes, and control) of all the devices manufactured.
The PRINCE MEDICAL sites total 10 complete extrusion lines and 22 automatic and semi-automatic injection presses
(22 to 90 T), operating in ISO7 and ISO8 gray rooms as well as clean rooms. The PRINCE MEDICAL Group has the latest laser cutting machines, welding equipment (laser, ultrasound, and microplasma), special machines for the manufacture of endoscopic brushes and balloon quenching, as well as efficient marking and packaging equipment.
After inspection and packaging, most of the products are sterilized in the ethylene oxide sterilization unit at the Ercuis site.
In 2018, the PRINCE MEDICAL Group manufactured nearly 15.5 million pieces and achieved a turnover of € 15 million.
The same year, PRINCE MEDICAL won the Presidential Prize for Occupational Health and Safety. An exemplary company in Tunisia, it is the subject of numerous local and foreign VIP visits
(USA, France, Germany, etc.).
A HEALTHCARE BUSINESS UNIT DEVELOPMENT STRATEGY
The OMERIN Group is already present in the medical device market with its subsidiary UNION PLASTIC, based in Saint-Didier en Velay. Specializing in the design and manufacture of medical devices and primary pharmaceutical packaging, UNION PLASTIC has advanced know-how in plastic injection. The synergy of skills between PRINCE MEDICAL and UNION PLASTIC will allow the development of innovative solutions for the French and International markets.
The OMERIN Group transforms 30,000 tons of thermoplastic and elastomeric materials into parts produced on 90 injection molding machines from 60 to 295 tons, but also into tubes, profiles, and extruded cables (crosslinked or not) on a hundred extrusion lines. Its pole of researchers/chemical engineers and process engineering will bring scientific and technical added value to the medical devices developed. PRINCE MÉDICAL will bring its special technologies, its wide range of medical devices for developing sectors, and its perfect mastery of regulatory files.
The PRINCE MEDICAL Group will also be able to explore avenues for developing medical devices made of silicone elastomer (a material with exceptional characteristics, neutral, inert, etc.) whose transformation is perfectly mastered within the OMERIN Group.
The method of exploration and medical imaging called "endoscopy" continues to progress and should reach 34 billion dollars by 2020 with an average annual growth rate of 6%. More and more manufacturers of medical equipment are now offering endoscopy equipment.
PRINCE MEDICAL has a strong potential for innovation and large production capacity. The implementation of a proactive commercial strategy will ensure the increase in company sales worldwide.
The integration plan for this new group unit is now launched: investment plan, development projects, reconciliation of skills and support functions, commercial and marketing action plan, etc.