Norconsult takes over Pure Logic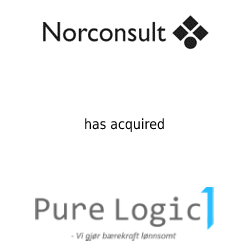 Norconsult takes over Pure Logic AS and thus increases its focus on decision support, digitization and sustainability.
DHT Corporate Services, our Partner in Norway, advised the shareholders of Pure Logic on the sale of the company to Norconsult.
"We look forward to being part of Norconsult. The merger is strategically important to meet future market opportunities and to create a basis for further profitable growth. Pure Logic and Norconsult are a very good match professionally and both have a high level of ambition. Together with Norconsult, we will realize our common vision for sustainable solutions on a large scale", says general manager Nina Simon in Pure Logic in the report.
Pure Logic is a company that works in estimation and decision theory.
The methodology helps customers to make good and sustainable decisions based on simplification and prioritization of large amounts of data, the company writes. Pure Logic was established in 2015 and they are based in Lysaker.
"With Pure Logic on the team, we strengthen our position as a leading provider of software and consulting services in digitization and sustainability. Pure Logic has developed digital solutions that make it easier for our customers to make wise and sustainable choices in projects and strategy processes. We look forward to having Pure Logic's skilled employees on the team, and together offer our customers and partners unique expertise in this field", says Ola Greiff Johnsen, Executive Vice President for Digitization at Norconsult in the announcement.
Norconsult's subsidiary NoIS will take over Pure Logic at the beginning of January 2022. All employees in Pure Logic will continue in their positions when the company continues its operations as an integral part of Norconsult's business area Digitization.