Mühlenhoff + Partner Group & Randstad RiseSmart deal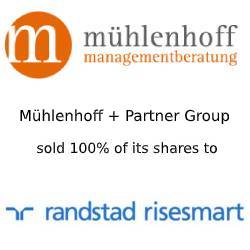 Mühlenhoff + Partner Group sold 100% of its shares to Mühlenhoff & Randstad RiseSmart deal.
The transaction was, on behalf of the sellers, advised by ACTIVE M&A Experts GmbH.
RiseSmart, a Randstad company, is the leading provider of contemporary career transition services for organizations in more than 40 industries and 70 countries. The first outplacement and redeployment provider to recognize, and respond to, the new Employee Relationship Economy, RiseSmart's "beginning to beginning" approach combines dedicated career coaching and personal branding with patented technology and tools to support transitioning employees. People and organizations are constantly in motion and influence each other. They form a dynamic whole. We draw on our experience to build an environment in which both can grow – not separate from each other, but together. This interplay between people and organization forms the basis for sustainable engagement.