Merge of Carmo Food with Euro Poultry, creating the new brand – House of Foods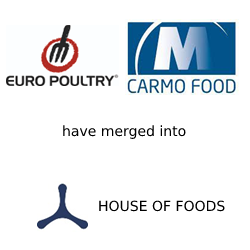 In May 2023, Cigno, our Partner in Denmark, closed a significant deal within the food industry in Denmark, acting as the overall M&A advisor. We here present the companies' area of activity, the type of deal, the deal structure, changes in management and the rationale behind it.
Carmo Food is a midsized wholesale food company in Denmark, primarily operating in the Nordics in catering, back-to-back and retail. Euro Poultry is a similar wholesale company; however, it focuses more on selling through brands and on poultry products exclusively.
Combining those two complementary companies in the same local area leads to many potential synergies. Carmo Food and Euro Poultry will continue under the brand – House of Foods. From day one, the new company will have a significant position in the market and considerable growth potential.
The deal consists of a total sale of Carmo Food and Euro Poultry companies and subsidiaries abroad to a new holding company, where management/employees, Carmo Food's main owner and Euro Poultry's main owner are investing.
The two former main owners will continue as chairman and vice chairman of the board of directors. The main owner of Carmo Food will retire from his CEO position by the end of May 2023.
Cigno acted as the overall M&A advisor to Carmo Food, which included participation in obtaining a relevant and competitive leverage package in competition between the two largest banks in Denmark. Our advisory services also included steering the complete transaction process, including the DD between the parties on a complicated legal double process.
The business rationale for the acquisition was to consolidate the market position as the House of Foods and create the best fundament for the future competitive market and further acquisitions.
Cigno´s advisor team on the Carmo Food deal consisted of Managing Partner Jens Møller, Partner Lars Søndergaard and Partner Morten Christensen.