MBA Capital, our French Partner, advised DVSI, publisher of the Human Sourcing Software on the sale to the Italian Group Zucchetti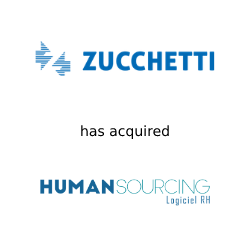 The Italian group ZUCCHETTI – € 1 billion in turnover, 7,000 employees and 700,000 customers worldwide – has acquired DVSI, publisher of the HumanSourcing software, the 1st recruitment management ATS created in France in 2003.
Founded by Nicolas Barbereau in 2003, DVSI is the publisher of HumanSourcing software, an HR software suite that optimizes the entire recruitment chain by covering the stages of pre-recruitment, recruitment and post-recruitment. 100% SaaS and modular, the software is sold by subscription to its customers, mainly companies with more than 200 employees (groups, mid-size companies, medium-sized SMEs and communities).
In order to accelerate the development of the company and the launch of new solutions, DVSI mandated our French Partner, MBA Capital, to identify an acquirer with a highly targeted profile: it was indeed a question of getting closer to a European player, offering a complementarity of the software suite.
After a 6-month sales process, the Italian family group ZUCCHETTI took over DVSI through its subsidiary ZUCCHETTI France. This acquisition is part of the group's strategy to expand its HR activities in France, a sector in which it is the leader in Europe with its Infinity HR software suite.
Thanks to this merger, HumanSourcing will be able to rely on ZUCCHETTI's resources to offer even more advanced functionalities:
Artificial intelligence technology at the service of recruiters.
Employee management (leave, travel expenses, absences, accessibility, digital works council, electronic restaurant voucher cards).
Talent management (interviews, training, remuneration, boards).
Management of HR budgets and costs (configurable analyses, statistics, forecasts).