Becs IT Services has acquired Kneepkens ICT Services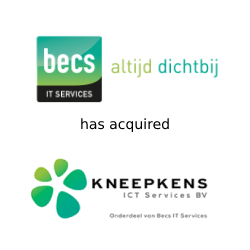 Becs IT Services from Weert takes over Kneepkens ICT Services, also located in Weert. 
Aeternus, our Partner in the Netherlands, assisted Kneepkens ICT Services with the sale to Becs IT Services.
Ruud Kneepkens has always had the goal with Kneepkens ICT Services to make IT simple and understandable by offering one total IT solution and to be a real advisor for his customers. In his pursuit to continue this vision, he sought cooperation with Becs IT Services, also from Weert, which eventually led to the acquisition of Kneepkens ICT Services by Becs IT Services.
Director Ruud Kneepkens of Kneepkens ICT Services: "By looking for a collaboration with Becs IT Services, I can continue to offer quality and continuity to my customers in a way that fits my personal ambitions, my company and the service level that my customers expect".
About Kneepkens ICT Services
After being founded in 2008, Kneepkens ICT Services has grown into a professional and solid company. From their location in Weert they serve approximately 150 customers in the SME sector in the field of network & system management or web design.
About Becs IT Services
Becs IT Services is a service-oriented IT service provider With branches in Weert and Maastricht-Airport, Becs IT Services has about 40 employees.