Ingredion Incorporated created a Joint Venture with Grupo Arcor in Argentina, Chile and Uruguay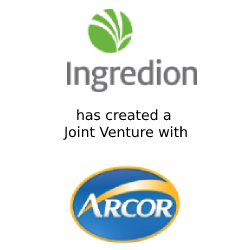 Ingredion Incorporated (NYSE: INGR), a leading global ingredient solutions provider to the food and beverage industry, and Grupo Arcor, the leading food company of Argentina, created a joint venture to leverage the two companies' manufacturing expertise, complementary geographic footprints and commercial capabilities to broaden food and beverage ingredient offerings to customers in Argentina, Chile and Uruguay. Arcor and Ingredion will hold a 51% and 49% stake, respectively. The joint venture will have a combined turnover of more than US$ 300 million.
The manufacturing facilities produce value-added ingredients, such as glucose syrups, maltose, fructose, starch and maltodextrins that are essential to the food, beverage and pharmaceutical industries.
Ingredion Incorporated (NYSE: INGR) headquartered in the suburbs of Chicago, is a leading global ingredient solutions provider serving customers in more than 120 countries. With 2019 annual net sales of more than US$6 billion, the company turns grains, fruits, vegetables and other plant-based materials into value-added ingredient solutions for the food, beverage, animal nutrition, brewing and industrial markets.
Arcor is the leading food company in Argentina, the first global producer of hard candy, and the main confectionery exporter in Argentina, Chile, and Peru. It has more than 40 industrial plants and employs nearly 20,000 collaborators. Grupo Arcor's daily production volume amounts to 3 million kilograms and its brands are sold in more than 100 countries worldwide. Its annual turnover for 2019 was US$ 2.5 billion.

Finanzas & Gestión S.A, the M&A Worldwide Partner in Argentina,  was the exclusive financial advisor to Ingredion Incorporated.