Hydrogen storage specialist MAHYTEC was sold to the industrial leader HENSOLDT NEXEYA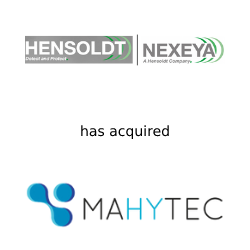 MBA Capital, our Partner in France, advised and organized the sale of MAHYTEC, the only French specialist in the manufacture of hydrogen storage tanks and renewable energy storage systems, for the benefit of HENSOLDT NEXEYA, the French subsidiary of the German industrial giant HENSOLDT.
MAHYTEC (MAtériaux HYdrogène TEChnologie), created in 2007, is based in Dôle (39) and employs 25 people. This French specialist in hydrogen storage is recognized today for his mastery of two hydrogen storage technologies:
Compression storage with type IV tanks approved up to 900 bars for mobile and stationary applications.
Storage under reversible metal hydride for nomadic applications.
The HENSOLDT group – a major player in the defense, aeronautics, energy, rail and automotive markets – headquartered in Taufkirchen, near Munich, develops sensor solutions for applications defense and security. As a technology leader, HENSOLDT is continuously expanding its portfolio in the field of cybernetics and developing new products to combat a wide range of threats regarding data management, robotics and cybersecurity. With more than 5,600 employees (including 800 employees in its French subsidiary HENSOLDT NEXEYA), HENSOLDT achieved a turnover of 1.2 billion euros in 2020. The company is listed on the SDAX index of the Frankfurt Stock Exchange.
The regrouping of these entities, partners since 2015, therefore allows the HENSOLDT group to effectively complete its offer in the field of intelligent solutions linked to hydrogen, in particular in production, storage, transport and conversion. The group thus has a significant advantage in meeting the energy challenges in defense and civilian markets.
Closely committed alongside the seller since 2019, MBA Capital has supported MAHYTEC in the conduct of this strategic project.
The expertise of the Strasbourg firm has enabled MAHYTEC to improve its time-to-market with a coherent strategy, a tailor-made process, and the approach of the main market players around the world in a controlled timing of discussions in a Franco-German-English international context.
"We had to pass a course, it would have been impossible to carry out this project alone. We needed advice that not only  accompanies us but that understands our world and our challenges. Without the intervention of the MBA Capital teams, I don't know if we could have completed the operation.
Today we are very excited to join the successful journey of HENSOLDT. Our hydrogen storage solutions as well as our extensive experience in this field perfectly complement their product range."

Dominique Perreux, Managing Director of MAHYTEC
"We first help our clients to streamline the approach and broaden their spectrum. You have to look for the best potential buyers far from your network, wherever they are."

Pascal Kim , Partner MBA Capital