How to install Orbit on your smartphone
Do you want to use Orbit on your smartphone? You have great advantages in having Orbit close to you at all times. For instance, if you are in a physical meeting with a client and you need to have some figures about the MAWW network, in a second you can go to the Orbit App, and there is all the information you will need about the network. Or if you need to share the credentials of a done deal in a specific sector, you only need to do a quick search in the app, and the information is at your fingertips.
It is very easy, you only have to make these three steps on your smartphone iOs:
Open your web browser and write the following direction: https://orbit.m-a-worldwide.com/
Steps:
You will see the Sign-in Screen: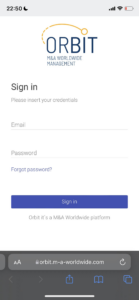 Before signing in, using your Orbit credentials, you should click on the arrow button at the bottom of the screen

Then, you should select the option "Add to Home Screen" and you should view this screen: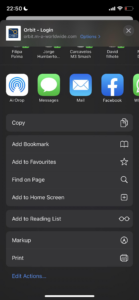 Select the option "Add" and it's done. After that, the Orbit icon should appear on your smartphone screen.
For Android version, please click here.