Gunderup Grus- og Stenleje and Bedsted Lø Grusværker ApS sold to CRH in a double deal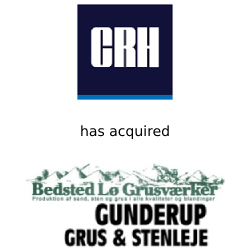 Gunderup Grus- og Stenleje and Bedsted Lø Grusværker ApS are the two largest stone and sand gravel pits in Jutland, Denmark and is among the largest in Denmark. Bedsted Lø Grusværker ApS and Gunderup Grus Aps each have a yearly extraction of more than 1 million tons of high-quality raw material. Gunderup Grus- og Stenleje covers more than 350 hectares with gravel deposits.
As CRH could not implement the two acquisitions in one, the closings were separated as December 1st 2022 and the second at February 1st 2023.  The acquirer is CRH, with HQ in Dublin, Ireland and Danish HQ in Viby Sj. CRH plc is a publicly listed international group of building materials businesses for the construction industry. It is the world´s largest quarry and gravel operator, with annual revenue of more than €32 million. CRH has acquired 100% of the quarries Gunderup Grus- og Stenleje and Bedsted Lø Grusværker ApS.
Cigno, our Partner in Denmark, has been working together with the two quarries for a few years to develop the right strategy for going to the market, as it is a quite small amount of potential acquirers that has to be attracted at the same time. After a period in 2021 with presale meetings with several global operators we went to the market. In February 2022 the bidding process with several bidders were initiated. It was close race between two bidders ended up with CRH to be chosen as best party for both quarries together. The double bidding process ended up as a success, where we could present a good amount of synergies to raise the final price.
Due to the size, international nature of the acquirer, and two legal independent sellers with each lawfirm on their site the due diligence (DD) process was heavy and time consuming. In addition, the DD was very hand-steered because the sellers are both very owner-driven (family driven) companies.
The rationale for the acquisition was to consolidate the acquirer's position as the main owner in the construction materials arena in Denmark by controlling the raw materials' supply chain.
The quarries' new C-level executive team will be restructured, with some exits due to retirement and some retaining the same positions. Furthermore, both parties intend to merge their management and sales teams and keep the existing operating personnel.
Cigno Mergers & Acquisitions assisted Gunderup Grus- og Stenleje and Bedsted Lø Grusværker ApS on their sale. Cigno´s Managing Partner Jens Møller led the process, assisted by Partner Morten Christensen.