Fresh The Good Food Market & BWG Foods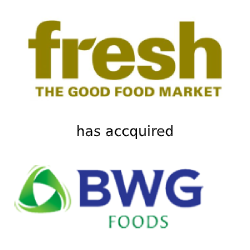 Irish retail group BWG, which operates the Spar and Londis franchises in Ireland, is taking a 38pc stake in upmarket grocery chain Fresh as part of a €10m investment in the business.
The investment will allow Dublin-focused chain Fresh The Good Food Market to accelerate its expansion plans, as well as upgrade its existing portfolio of shops.
Fresh plans to identify and develop new store locations across the Greater Dublin area. It now has seven stores in Dublin, with the latest Fresh store launched in Capital Dock in October.
The company's next shop in Dublin's new urban quarter, Dublin Landings, will open in the second quarter of 2020.
The existing Fresh stores are in Grand Canal Dock, IFSC, Camden Street, Smithfield, and Stepaside. Under the deal, John Clohisey, a director of BWG Group, will join the board of Fresh Opportunities Limited, the operator of the Fresh brand in Ireland. Fresh employs more than 300 staff and had a turnover of just over €29m and pre-tax profits of €1.1m in 2018.
Established in Dublin in 2006, Fresh sells gourmet, fresh, and specialty products, as well as stocking premium wines and craft beers.
Following on from the investment, BWG becomes a significant shareholder in the growing retail business, with a 38pc stake, while Fresh founder and managing director Noel Smith will continue to hold a majority shareholding in the company.
Smith said: "We welcome this significant investment in our company by BWG, which demonstrates huge confidence in the Fresh brand. I am looking forward to strengthening our relationship with BWG as we expand our business over the coming years."
Leo Crawford, chief executive of BWG Group, said: "Fresh is a very successful specialty food offering that appeals to an exciting and growing segment of the Irish convenience food sector.
"The investment is consistent with our focus on ensuring our multi-brand retail portfolio caters to the wide-ranging needs of convenience customers.
"We look forward to working with Noel Smith and his team to identify other exciting opportunities to grow the business and the brand."
Fresh Opportunities worked closely with Brian McGann, Partner of Focus Capital Partners, the M&A Worldwide Partner in Ireland, who advised on the agreement.
In 2018, Fresh was named the NACS International Convenience Retailer of the Year for its Camden Street store.
It also won IGD's Small Store of the Year accolade in the same year, as well as Retail Excellence Ireland's Best Supermarket Group.
BWG is majority-owned by Spar Group in South Africa and operates convenience store brands in Ireland and the UK. Its portfolio of brands includes Spar, Eurospar, Mace, Londis, and XL stores.
Deal value: 10 – 20m