FOCUS Investment Banking Represents McLea's Tire & Automotive in its Acquisition by AAA Northern California, Nevada & Utah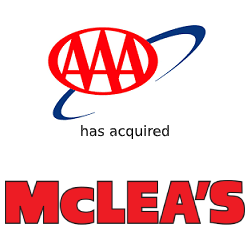 McLea's Tire & Automotive Centers, a family-owned, five-store operation based in Santa Rosa, Calif., has been acquired by AAA Northern California, Nevada & Utah (AAA NCNU). FOCUS Investment Banking represented McLea's Tire & Automotive Centers in this transaction.
McLea's Tire & Automotive Centers has served Sonoma County for over 40 years. After decades of hard work and ready to enter retirement, brothers Les and Rick McLea decided to sell the family business to AAA NCNU.
"Many companies have approached us over the years," said Les McLea. "As lifelong AAA Members and with over 20 years in the AAA Approved Auto Repair program, we know AAA Northern California will continue to put customers and community first."
The McLea family will remain involved in the business as Les and Rick's sons, Darren, Brandon, and Reece McLea, will continue in leadership roles at AAA NCNU.
"As a trusted brand, we have always been strong supporters of AAA NCNU growing its auto service business," said FOCUS' Automotive Team Leader Michael McGregor. "McLea's Tire & Automotive Centers is a high-quality automotive service provider in Sonoma County. It's a great match."
About FOCUS Investment Banking
With more than three decades of experience, FOCUS Investment Banking is a trusted name in middle-market M&A advisory services worldwide. Whether helping to sell, buy, or raise capital, FOCUS strives to maximize the value of every transaction to the benefit of its clients. Securities transactions conducted by FOCUS Securities LLC, an affiliated company, registered Broker Dealer member FINRA/SIPC. For more information, visit www.focusbankers.com.
About AAA Northern California, Nevada & Utah
AAA NCNU has a proud history of serving Members for over 100 years. AAA NCNU is on a mission to create Members for life by unleashing the innovative spirit of over 4,600 employees representing over 6 million members across Northern California, Arizona, Utah, Nevada, Montana, Wyoming, and Alaska. In addition to legendary roadside assistance, AAA NCNU offers home, auto, and life insurance, travel, home security services, and auto repair and maintenance. Learn more at AAA.com.