Anywaydoors it is sold to the sector colleague Theuma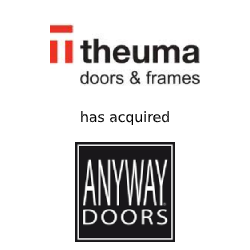 Door manufacturer Theuma from Bekkevoort, acquires sector peers Anywaydoors and subsidiary Portapivot. Aeternus assisted Anywaydoors with the sale to Theuma.
Theuma is a manufacturer of interior doors and frames. It is the Belgian market leader and number two in the Netherlands. Theuma focuses on both the business and, via wholesalers, the consumer market. Despite the corona crisis, Theuma was able to maintain its market share this year, Anywaydoors was even able to achieve growth figures. Together, the companies have a turnover of 60 million euros.
The takeover is especially important because of the innovative technology that Anywaydoors has in house. The company makes so-called pivoting doors that are much safer because in principle you cannot get your fingers caught between them. Anywaydoors also makes trendy room dividers.
About Anywaydoors
Anywaydoors makes tailor-made pivoting doors and sliding doors ('room dividers') for the higher market segment and sells them via a main store in Massenhoven and a network of selected distributors in the Benelux. Sister company Portapivot sells room divider products and hinges online to professional customers.
More about Anywaydoors https://www.anywaydoors.nl/
About Theuma
Theuma is one of the largest manufacturers of door sets (interior doors and frames) in Europe and has 250 employees spread over Belgium (Bekkevoort) and the Netherlands (Nijkerk). Theuma was sold by Eugeen Theunis last year to the investment fund M80 and the management of the company. M80 mainly aims at added value and growth through the implementation of digital techniques.
More about Theuma https://www.theuma.com/nl-nl/